Michael's Doctor Exposes Jackson's SHOCKING Secrets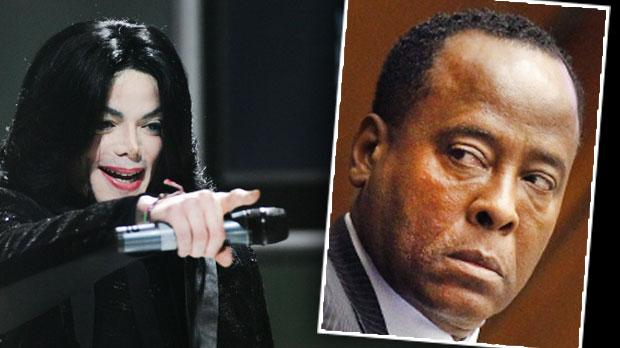 Michael Jackson had a sexual appetite for young girls, Emma Watson and prostitutes, according to his former doctor, Conrad Murray.
The physician detailed the deceased singer's sexual escapades in a new tell-all book — which RadarOnline.com first reported he was writing in 2012 — and his allegations are the most explosive to date!
Murray, 63, claimed that the pop-icon was obsessed with his British god-daughter Harriet — and later became infatuated with Emma Waston too!
Article continues below advertisement
The doctor wrote that Jackson confided in him about his crush on Mark Lester's daughter, Harriet. He allegedly fell in love with her when she was just five-years-old, and was fixated on her by the time she was 12.
"He wanted me to go with him to visit her father and to discuss plans for matrimony while in London, during the This Is It concerts," he detailed in the book. "He told me Harriet's father was Mark Lester, his very close friend."
"I was concerned that Harriet was legally far too young for marriage in most of the world," he added. "When I asked Michael how old she was, he said he was not sure, but thought she could be about 12 years old. I remembered saying to him in Trinidad and Tobago I'm familiar with some prearranged marriages, especially in the Hindu faith, but I don't think it's allowed for ages that young. It would be something to carefully scour for the legality of marriage to a minor. I was sure it was statutory rape in America and England."
Article continues below advertisement
"He said he planned to have someone review the legality and ramifications of marrying someone as young as Harriet when he arrived in London," Murray detailed. "He wanted me to visit Harriet's father with him so he could discuss the ramifications of marrying someone that young in the western world."
Murray claimed Jackson dropped these bombshells after confessing he had never been intimate with his wife, Debbie Rowe.
Lester, 58, declined to comment on the allegations.
Then, according to Murray, Jackson noticed Watson, now 26, as Hermoine in Harry Potter, and planned to move to London to be with her!
"Michael told me he was almost as consumed with British actress Emma Watson," he wrote. "He had 'fallen in love with her' when she was in her first Harry Potter film in 2001, when she was just 11. Emma was his second choice for a bride if things did not work out with Harriet."
Article continues below advertisement
"This was the closest Michael ever came to answering my own unasked questions about the pedophilia allegations that had haunted him for years," he said of his conversations with Jackson. "I never challenged Michael. That is because I instinctively knew that when it came to very sensitive subjects, Michael could as quickly shut down, as he had been forthright. But one thing was clear: the way Michael spoke about the young girls was not an innocent crush, but an unrequited love."
Murray also claimed that Jackson kept a cardboard cutout of Watson is his Los Angeles, Calif. home.
The previously jailed doctor also detailed his nights on the town with Jackson, claiming that he was "like a kid in a sweet shop" with strippers in a cheap hotel room.
"He was a crazy and wonderful lunatic," he wrote. "We'd speed to the downtown Las Vegas strip. Sometimes we would bring along a mask or other disguise.
Article continues below advertisement
"Downtown, we'd walk the streets, with Michael ecstatic that virtually no one recognized him," he explained. "I once wore scrubs and Michael walked with a limp, pretending to be a stroke victim. He was drooling on one side of his mouth."
"One outing I remember vividly," he detailed. "Michael had been moaning that he had never been to a strip club. 'Get a few girls to come over to my house,' he kept asking me. But I was worried that even if the girls signed the standard non-disclosure form, it was too much of a risk."
"'What if one of the girls later charges rape and tries to shake you down for money?' I warned him. Michael agreed."
"So instead we went to the mid-priced Gold Coast Hotel off Flamingo Road," he continued. "We chose it precisely because it wasn't the glitzy Vegas mega-hotel that attracted the rich and famous and packs of paparazzi. It also had a relatively small lobby and casino, meaning we could pass through to the hotel's elevator quickly enough so as not to have Michael identified."
Article continues below advertisement
"Michael did his 'stroke victim' act as he walked through, and I was in green medical scrubs," he elaborated. "Nobody looked up from the nickel slots and crap tables. When we got to our room we burst into laughter."
"I telephoned an escort agency and discussed the type of girls Michael wanted. Exotic. Mixed race. Very thin women. If they had large breasts that was OK, so long as the rest of them was pencil thin," he wrote. "About 45 minutes later, two girls arrived. They weren't bad. But they really didn't hit the mark for exotic. They were six on a scale of 10. I would not have picked them to dance for me if I had walked in to a strip bar. But they looked just right to Michael who seemed like a kid in a candy store."
Murray said he let Jackson enjoy the strippers by himself for the night, and that "another time, with Michael dressed as a clown, we had to keep stifling laughter as people stared at us. Eventually we broke into hysterics for so long our stomach muscles ached."
His book will be released on Tuesday, despite harsh criticism.
"I have decided that the time has come to reveal in this book the untold story of what really happened to Michael Jackson," he affirmed. "This book is the last chapter of Jackson's life, told as no one else even knows it."