Exclusive
Nude & Crude! Twisted Jacko's Naked Kiddie Art Collection Exposed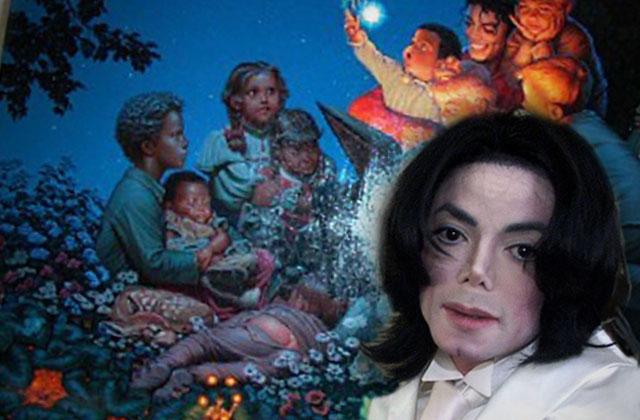 If a picture is worth at thousand words, than this startling image of a prized painting from Michael Jackson's private collection speaks volumes about his bizarre fascination with young boys!
In the painting, which hung in a prominent place at Neverland Ranch, the disgraced pop star is shown joyfully reading a story to a group of young boys who surround him, with one perched on his shoulder and another in his lap. Other children are also gathered around Jackson, and there is even one boy leaning over with his buttocks nearly fully exposed!
Article continues below advertisement
This disturbing picture was featured in a video shown to the 12 jurors who had to decide Jackson's fate in his 2005 child molestation trial. Jackson was eventually cleared of all charges.
But it is the photographs and the words the jury didn't see or hear that could have shed a very different light on their decision.
Astonishingly, out of more than 300 potential witnesses scheduled to give evidence, only 135 appeared in court in Santa Maria, California. Noshows included celebrities such as Jackson's friend Liz Taylor, singers Diana Ross and Stevie Wonder and basketball ace Kobe Bryant.
Article continues below advertisement
In addition, scientific evidence, including DNA samples said to have been taken from a mattress at the Neverland estate, were not submitted to the court. Neither were the famous photographs purporting to show distinguishing marks on Jackson's genitals that only someone "close" to him could have known about.
The files of unseen material collected by lawyers was said to include a letter written by Jackson urging a relative to read her children an article about child molestation and warning: "Even your own relatives can be molesters of children."
Former Jackson security guard Kassim Abdool said he saw the singer and a boy frolicking in a jacuzzi and sharing a lingering embrace under a Peter Pan display, but jurors were not allowed to hear another of his claims that he delivered a jar of Vaseline to the naked pop star who was entertaining the boy in his bedroom.
For the defense, among the most pivotal pieces of evidence kept from the jury was how the mother of Jackson's accuser – who denied seeking financial gain from the case – demanded a $20,000 fee from a newspaper reporter for her account of her son's relationship with Jackson. Without explanation, she withdrew hours before the deal was due to be signed.
Article continues below advertisement
And none of the four so-called coconspirators with Jackson – all of whom were named in court – were called to give evidence that would have rebuffed the prosecution claims that they "kidnapped" the boy and his family.
One major prosecution witness had a secret that was kept from the jury, too. He had described to the court how Jackson behaved inappropriately with a boy, but the defense was not able to reveal his links to pornography, which might have led to his evidence being judged differently.
As RadarOnline.com reported, long-buried evidence seized in police raids of the Neverland Ranch have shed new light on Jackson's kinky sex fetishes and twisted double life.