Meghan King Edmonds Confesses Heartbreaking Secret About Fractured Marriage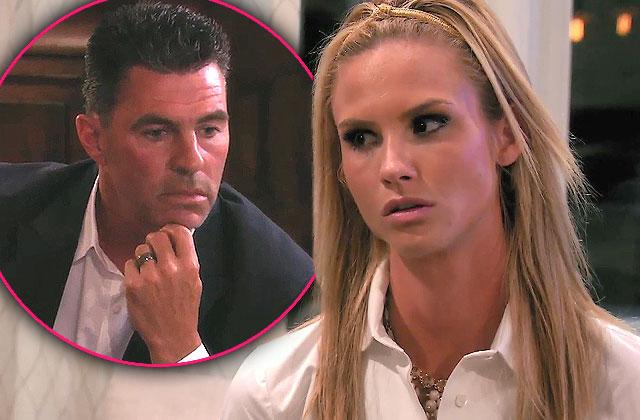 Meghan King Edmonds is expecting a baby girl with hubby Jim Edmonds, but their baby bliss is being overshadowed by their marriage problems!
Meghan, 31, and Jim, 46, tied the knot in 2014, and joined the Real Housewives of Orange County cast in 2015. Their marriage began crumbling during the show's tenth season, as Meghan struggled to bond with his daughter Hayley in his absence. When Jim made appearances in the OC, he was often seen criticizing his new bride.
Article continues below advertisement
The couple returned for season 11, and is already off to a rocky start!
They are trying to conceive via IVF, since Jimmy had a vasectomy seven years ago, and he wants nothing to do with the process!
The couple goes to pick up his sperm — and the reality star soon found herself in tears as her husband had to leave her for Florida again.
"It is really frustrating to me that Jimmy doesn't act more interested in the IVF process, especially considering that it has consumed my life," she later revealed in her Bravotv.com blog.
MORE ON:
Meghan King Edmonds
"I understand that it can be an overwhelming process and he had to be in Florida for spring training during most of it, but I was on a lot of hormones and was very emotional," she explained. "It definitely would've been nice to have him pay more attention to the process, but that didn't mean he wasn't excited for us to have a baby."
Meghan previously opened up about her husband's disinterest in their baby, writing in another Bravo blog that, "the scene where I'm going through all of the candles with Jimmy was fun and as you can see, he is preoccupied with the subject right in front of his face - candles! We had just gotten that shipment in our house and we both couldn't wait to open it and we had already talked about IVF a bunch prior to that, so he was understandably distracted."
"Additionally, Jimmy is the kind of person that likes to get information and not really ask questions," she added. "He's not a researcher like I am and sometimes a lot of information is too much information for him!"
Jim was also in Florida during her hysteroscopy that episode — a point which Meghan did not address.