Exclusive
Lenny Dykstra: I'll Rearrange 'Crypt Keeper' Mickey Rourke's Plastic Surgery Face!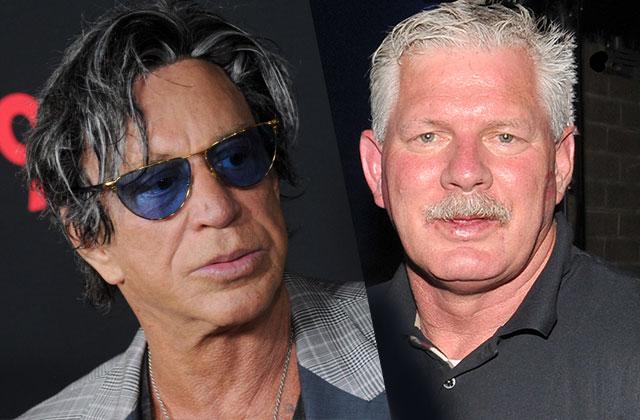 MLB star Lenny Dykstra has some fiery words for his one-time Hollywood pals who have trashed his memoir. First up, Mickey Rourke, after the actor threatened to "rip him a new a**hole."
"I'm sure that wouldn't be the first a**hole he has ripped... If you know what I mean," Dykstra joked to RadarOnline.com in an exclusive interview.
As RadarOnline.com has reported, Dykstra is currently on an outrageous press tour to promote his new tell-all, House of Nails: A Memoir of Life on the Edge. In an interview with Howard Stern, Dykstra claimed Rourke owes him $30,000 for an unpaid hotel tab.
Article continues below advertisement
When informed of the alleged debt, 63-year-old Rourke launched into a bitter tirade, threatening his former roommate and party pal. Dykstra responded in kind — to RadarOnline.com!
"Mickey Rourke is a f*cking p*ssy," claimed the former Mets and Philly star.
"The last time I saw Mickey Rourke was when he called me up crying like a little b*tch because Carrie Otis broke up with him. Real f*cking tears! I said 'Mickey, are you serious right now, are you crying? WTF! Snap the f*ck out of it.'"
According to Dykstra, he told him: "She wants no part of you. You are broke. All you do is blow, and you look like f*cking death! So move the f*ck on!"
Dykstra had more fierce words about Rourke's plastic surgery riddled face.
"The motherf*cker looks like the Crypt Keeper from Tales of the Crypt," he jabbed. "Assuming he wanted to go mano a mano, that would be the best thing that could ever happen to him," the 53-year-old outspoken star insisted.
"He needs me to rearrange his f*cking face, as he has has set back the face lift industry ten f*cking years!
"After seeing that clusterf*ck of work he has had done, he has put the fear of God in people that are considering getting a face lift! Jesus Mickey, what the f*ck happened to your face?"
Even Rourke's therapy dog wasn't safe from Dykstra's scathing words.
"He is always carrying that little f*cking dog around with him," the MLB legend said. "The last time he was free loading off me flying coast to coast on my Gulfstream, I made it clear to him, 'If that little f*cking rat of dog of your sh*ts on my plane I'm throwing that motherf*cker out at 50,000 feet!'"