Exclusive
Kidnapping Survivor Jaycee Dugard SLAMS Elizabeth Smart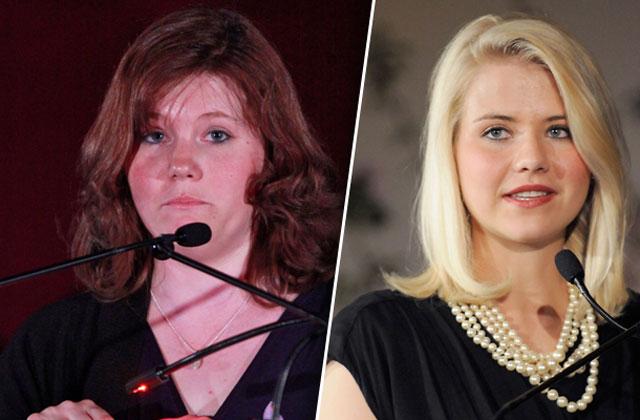 Jaycee Dugard is sick and tired of being mistaken for other celebrities— especially a certain fellow kidnapping survivor.
The 35-year-old, who was notoriously held captive for 18 years by a deranged sex offender and his wife until her 2009 rescue, starts off her second memoir, Freedom: My Book of Firsts, by stating she is NOT Elizabeth Smart.
"Many confuse me and my story with Elizabeth Smart," she writes of the Utah woman, who was discovered by police officers in 2003 after nine months in captivity. "Just for the record, I am not Elizabeth Smart. Even though we both have blond hair, we have vastly different lives and experiences."
Article continues below advertisement
Then, Dugard takes a dig at Smart's comparatively short time in a madman's control.
"I am the one who was captive for EIGHTEEN YEARS! Not months," the mother of two snaps.
She also says at times she's mistaken for the three women abducted by notorious Cleveland rapist Ariel Castro, but Dugard had only kind words for "brave ladies" Amanda Berry, Gina DeJesus, and Michelle Knight.
Upon learning about their 2013 discovery in Castro's sick sex dungeon, Dugard was "stunned" and "amazed" by the women's courage.
"Right away with their first appearances on TV, they all struck me as being hopeful for their futures and all that life had to offer," she gushed, noting that she felt a special "kindship" with Berry, who also gave birth to her kidnapper's baby.
"She too had a daughter, and I had two," she notes.
Now, seven years after she found freedom, Dugard is living with her mother and daughters and focusing on her charity, the JAYC Foundation.