Exclusive
The Other Woman Speaks! Kailyn Lowry's BFF Turned Enemy Claims 'I'm No Homewrecker'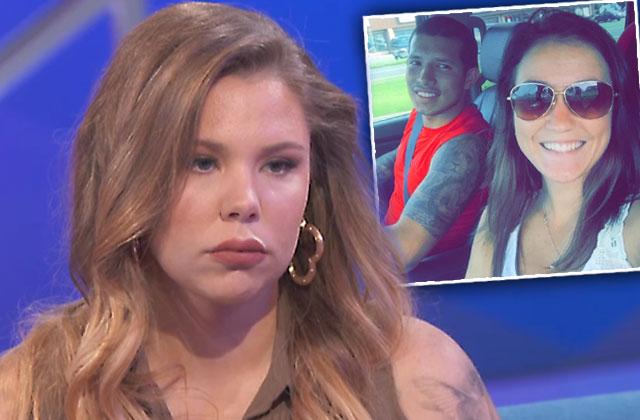 The demise of Kailyn Lowry and Javi Marroquin's marriage unfolded on Teen Mom 2, but was there another woman behind-the-scenes involved in ending the nearly four-year relationship? RadarOnline.com has exclusively learned Lowry's former best friend Christina "Peach" Pietrobon may have contributed to the couple's decision to divorce.
"Peach is a driving force in Javi wanting a divorce," a source close to Lowry, 24, said of the couple's longtime friend. "She has tried to make him choose between her and his family. She even went as far as to say none of his friends would be there for him if he chose to stay with his wife."
Article continues below advertisement
The insider also claims Pietrobon tried to end the marriage because she has feelings for Marroquin.
"They even hooked up in high school and she has never gotten over him," the source said. "The only reason she became 'friends' with Kail is because Javi pushed it…. She now takes every opportunity to tell Javi to leave her. She even told Javi that Kail and the boys should not pick him up at the airport when he returns from his deployment, that she should be the one there."
As for Marroquin, he doesn't see Pietrobon as anything "more than a friend."
"I think that she's hoping to have time to change his mind if he leaves Kail and she can see him more," the insider explained.
But Pietrobon exclusively told RadarOnline.com that she never tried to end their marriage!
"That's not true at all," she said. "We've never left Javi's side and never will. Javi is one of my best friends, he's more than that, he's family too. I would never make him choose between me and anything else. It's not the way friendship works."
Article continues below advertisement
She added that Lowry and Marroquin, "Have their own issues and relationships struggles," that led to the end of their marriage.
"I'm just there to support Javi and be there for him," she said. "I'm no homewrecker. Javi's my best friend. It's never been more than that."
As for what caused her feud with Lowry after the divorce was announced, she explained, "There's just things we didn't agree on. Sometimes not everyone's meant to have a seat at your table. It's life."
Why do you think Lowry and Marroquin ended their marriage? Tell us in the comments.