Leaked Emails REVEAL Hillary Clinton Briefed About Shocking Sex Video Secret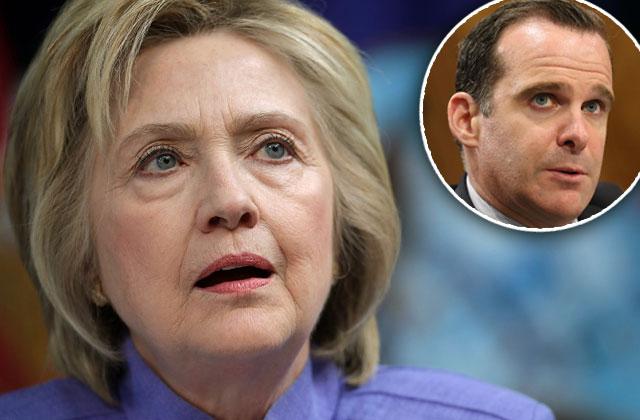 Hillary Clinton likely was anticipating a major sex scandal to hit the news involving one of Barack Obama's top appointees, documents leaked during the investigation into the presidential hopeful's use of a private email server have revealed.
Wikileaks made public emails that show Clinton's staff warned her that Brett McGurk, Obama's choice to become the ambassador to Iraq after successfully serving as an advisor and specialist in the country, was involved in a sordid affair that was about to be publicly exposed.
Article continues below advertisement
On April 18, 2012, a blog on wemeantwell.com, hinted that "a State Department VIP apparently has had sex on an Embassy roof, captured on video."
"What if a video existed that showed a prominent State Department VIP on the roof of the Republican Palace in Baghdad receiving, um, pleasure of an oral nature from another State Department officer not his wife, or even his journalist mistress of the time? What if that video has been passed around among Marine Security Guards at the Embassy to the point where it is considered 'viral' with many copies made?" questioned the piece.
The shocking post was tagged with the words "Clinton," among others, and filed under "Embassy/State, Iraq."
Then, on June 4, 2012, leaked emails purportedly exchanged between McGurk and Wall Street Journal reporter Gina Chon, who was covering McGurk for her publication as he helped shaped Iraqi policy, showed what appeared to prove an ongoing tryst between the two that had started in mid-2008. McGurk, who was married to another woman at the time, eventually divorced and he and Chon are now married.
Article continues below advertisement
The new Wikileaks emails of Clinton's own missives at the time using her private server showed she received an email from her Chief of Staff Cheryl Mills.
"UNFORTUNATELY NOW ITS NEWS" read a subject line between the two dated June 6, 2012, two days after sexual exchanges discussing "blue balls" and rendezvouses between McGurk and Chon were revealed across the web.
Surprisingly, McGurk kept in touch with Clinton's Chief of Staff, Mills, after his scandal broke, revealed a newly leaked email from September 14, 2012, in which he writes to Mills about a memorial service. Mills later forwarded the message to her boss, Clinton.
Despite all the drama he created, McGurk was appointed to be Deputy Assistant Secretary of State for Iraq and Iran in 2013.