Exclusive
In Sickness & SNAKEBITES! Rattler Attacks Groom At Wedding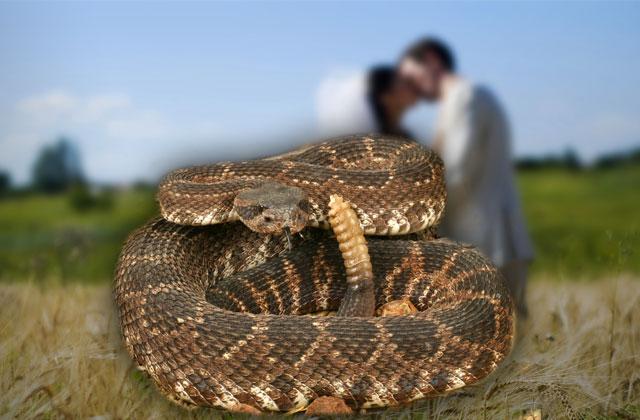 An unlucky groom's wedding day was memorable for all the wrong reasons after he was bitten by a rattlesnake while posing for pics with his new bride RadarOnline.com has exclusively learned.
Johnny Benson, 44, from Fort Collins, Colo., was with his dazzling wife, Laura, 33, at a reservoir to have photographs taken after the wedding ceremony.
But as the official photographer snapped away at the couple, so did a hungry rattlesnake — taking a chomp out of Johnny's leg!
Article continues below advertisement
"All of a sudden, it was like someone kicked me in the shin," said Johnny. "Then I looked over and saw the snake sitting there and it was rattling."
Fortunately, a park ranger was nearby, kept Johnny comfortable and radioed for help.
But the serpent didn't put an end to the celebration, as no venom was injected, and after a trip to the hospital, Johnny and Laura were still able to make their reception. The guests, who had been worried at the absence of the star attractions, sent up a "hurrah!"
"I've never seen such an emotional grand entrance as all 184 guests cheered when Johnny and Laura walked in," revealed photographer Maddie Mae.
Johnny's brewery, where he works, certainly saw the funny side! "If rain on your wedding day is good luck, a snake bite guarantees true love forever," the company wrote on Facebook. "We're glad the groom could still dance the night away."