Sonja Morgan Throws Shade At LuAnn De Lessep's Engagement Ring On 'RHONY'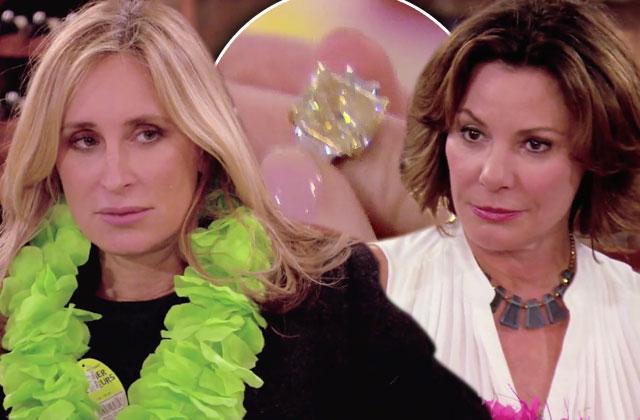 "We are going to have the best weekend ever. I can just feel it!" shouts Ramona Singer as she and the Real Housewives of New York City enter Mohegan Sun Casino. The reality star says she's going to be fair by have the girls do a blind pick of the rooms, but she already got to pick her own room beforehand, taking the best of the bunch for herself.
After LuAnn de Lesseps stormed out of Joanne's restaurant, and after Jules Wainstein told Bethenny Frankel off last week, things seem surprisingly calm.
Article continues below advertisement
Last episode, we watched Sonja Morgan and Frankel make peace, but Waintstein and Frankel appear to be avoiding one another. This doesn't stop them from separately venting their grievances, it's still the Real Housewives of New York City after all.
"She's a hypocrite!" Wainstein tells Morgan of Frankel. "For someone who has the Skinnygirl brand and then she's bashing a real skinny girl? I'm never going to share intimate things with her ever again."
Morgan gives her an understanding sigh but offers no real support.
"Someone who says they know everything about eating disorders would not act this way to someone in recovery. So maybe it's not healthy for me to be around her," Wainstein decides on her own.
While the girls are at Mohegan Sun, de Lesseps is in Vale, Colorado getting engaged to her man, Tom D'Agostino. Notorious D'Ag, never forget, has been linked to both Singer and Morgan, who have been complaining how hard it is to get in touch with the Countess.
Article continues below advertisement
"How much sex is she having?" Morgan asks out loud.
Singer tells Morgan that she is desperate to get in touch with de Lesseps because she wants to host a big engagement party for her. Dorinda Medley is really the one planning it, but Singer has it in her mind that she's going to be the one organizing.
Since Singer can't seem to get a hold of de Lesseps, she decides to text D'Agostino. "I did the etiquette thing," Singer said plainly. "I told LuAnn I was going to text him."
Morgan is astonished: "The etiquette thing is you don't text her man!"
As absurd as that sounds, it's only a bit more absurd than Singer hosting the engagement party for de Lesseps. After all, Singer has done nothing but remind everyone she dated D'Agostino, suggesting that he's not the most trustworthy.
Luckily, we have Medley, the moral compass and Queen Meddler of the group, to set Singer straight.
Article continues below advertisement
Medley means business, and we know that because she's wearing a very aggressive turtleneck under a cable knit sweater. She always serves a dose of truth medicine with some Stevia to help it go down.
Medley will host the dinner, just the girls, because Medley introduced them and because de Lesseps is still a bit mad at Ramona Singer. Singer looks shocked but it may just be the Botox .
Watch the Video on RadarOnline.com:
Meanwhile, Bethenny Frankel is also served some medicine. The Skinnygirl mogul is planning to go away on a ski trip with her daughter, Bryn, but an assistant warns her it might not be a good idea.
Handing her some pills, she says to Frankel, "I still don't think it's a good idea...you're sick."
Frankel looks thoughtful. "I'm fighting through this because I don't want to disappoint Bryn," she says.
Knowing that she's fighting a losing battle, the assistant shrugs, "We all think you're kinda in denial about all of this."
Article continues below advertisement
"Do you want to see the ring?" as she flashes a large QVC-inspired canary yellow diamond.
Meanwhile, Morgan throws serious shade during her camera interviews: "She's coming in here with an 8-karat murky yellow diamond when I had a 4-karat…flawless… I'm happy for her but..."
De Lesseps then reveals the wedding won't be happening until New Year's Eve.
"We have to wait until New Years?" Morgan whines. De Lesseps shoots her a hard look and then goes back to smiling and gazing at her ring.