Gunned-Down Baton Rouge Cop Posted Plea For Peace Before Murder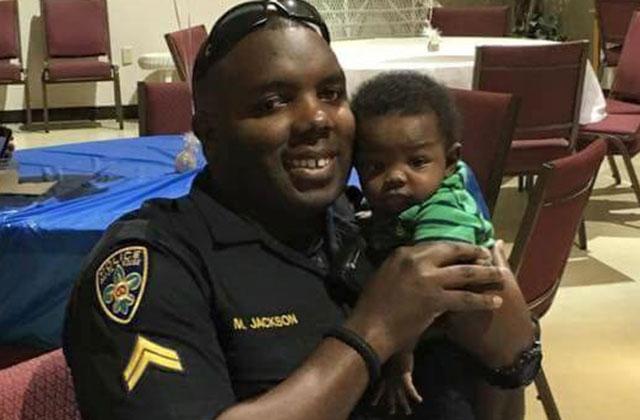 Montrell Jackson was a police officer, a proponent of peace, and a new father before he was tragically gunned down in Sunday's Baton Rouge killing. But only a week before his death, he wrote a heartbreaking and prophetic Facebook post begging for peace in his community.
Only a few days after another Baton Rouge shooting that left Alton Sterling dead, Jackson took to Facebook to express his emotions.
Article continues below advertisement
"I am tired physically and emotionally. Disappointed in some family, friends and officers for some reckless comments but hey what's in your heart is in your heart. I still love you all because hate takes too much energy but I definitely won't be looking at you the same," Jackson wrote.
The 32-year-old Baton Rouge officer posted the message on July 8, only a day after the murder of five Dallas cops.
"These are trying times. Please don't let hate infect your heart. This city MUST and WILL get better," Jackson wrote.
Jackson, who is survived by his and four-month old son, had been on the force for 10 years and was voicing his plea as a cop, an African American, and a father to his new son.
"He just had his first-born son, he always wanted to become a father" Jackson's brother, Kedrick Pitts, told NPR.
Jackson soon became the victim of exactly what he preached against when on Sunday a Missouri gunman wearing body armor and armed with a rifle ambushed police officers, killing three and wounding three more.
Despite his disappointment, Jackson had remained optimistic for the future and offered words of encouragement for those who needed it.
"I'm working in these streets so any protesters, officers, friends, family, or whoever, if you see me and need a hug or want to say a prayer I got you."