Story Of Survival! Amputee Becomes A Top Ballerina With Prosthetic Leg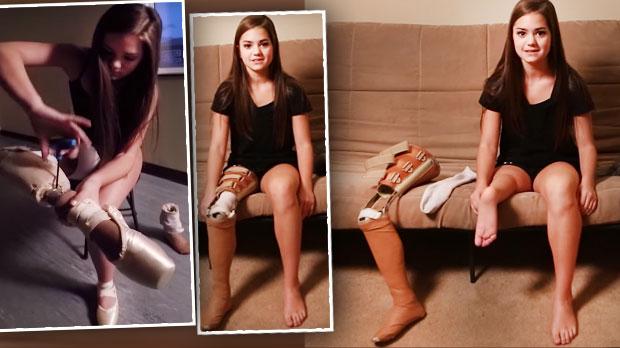 A little girl who thought she would never walk again is now a ballerina on a mission, thanks to a miracle surgery and a prosthetic leg!
Gabi Shull was just 9 years old, and already obsessed with dance, when she was diagnosed with osteosarcoma, an aggressive bone cancer that required 12 weeks of chemotherapy and amputation.
Her family chose a procedure called a "rotationplasty," which removed her cancer-ridden knee and then reattached her ankle and foot to her upper leg — backward!
Article continues below advertisement
"We talked about it with Gabi, and we started looking at videos of kids rollerblading, rock-climbing and water-skiing after having a rotationplasty," explained Gabi's mom, Debbie Shull.
"We learned that there are absolutely no cons to rotationplasty except the way it looks, and if you can get past that and focus on your quality of life, then you've gained everything and have lost nothing."
All Gabi needed to hear was that she'd still be able to dance!
"It took me about a year and several personal trainer sessions to take my first steps without any assistance, and a year after that I was dancing on stage again," she said.
Now 15 and fitted with a prosthetic lower leg, she dances competitively, ice skates, uses her experience to help kids battling cancer — and plans to become a doctor and find a cure!
"If I can beat cancer and live with a prosthetic leg and learn to do everything again, then I believe I can do ANYTHING," Gabi said.