Drugs, Plastic Surgery & More: Whitney Houston's Secret Autopsy Details EXPOSED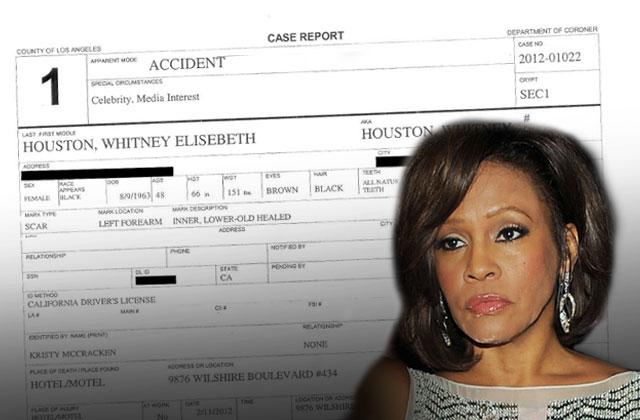 Whitney Houston lived hard and fast for years, but the party came to a tragic end when her waterlogged and scalded body was yanked from a hotel bathtub. Her agonizing death in just 13 inches of near-boiling water was a heartbreaking finale for the performer who friends and family always feared would be gone too soon, and now the new TV show National Enquirer Investigates is taking a deeper look.
Nobody knew just how many secrets Houston was desperate to keep until the Los Angeles County coroner's 42-page report laid bare the singer's life that was cut short in that Beverly Hilton hotel suite on Feb. 11, 2012.
Article continues below advertisement
Fans were stunned to learn that the report showed Whitney had altered her often-bloated body through plastic surgery. The autopsy detailed the "small scars" on her breasts were "associated with breast implants."
Scars on her stomach and upper thigh were also noted and that mane of brown hair that seemed so natural? It was nothing but a wig that was still tightly clamped to the singer's head when she died.
Even more shocking was the truth that Houston's big bright smile that could light up the stage was all thanks to dentures! Experts also point out that long-term substance abusers like Houston often grind their teeth, which are already decaying due to the damage of the acidic chemicals found in harsh drugs like crack.
Her shattered body showed she had developed mild emphysema from smoking. And tests proved she was strung out from – drugs – despite Houston's sister-in-law, Pat Houston, insisting that she was not abusing any chemical substances leading up to her death.
She couldn't have been more wrong. Blood tests indicated that the musician had smoked marijuana within two weeks before dying, and both the initial and final reports revealed cocaine and prescription medications in her system.
In fact, forensic toxicologist Bruce Goldberger said tests indicated she was "acutely intoxicated from cocaine" when she died and was a "repeated cocaine user."
Find out more of the shocking secrets and scandals surrounding Whitney Houston's death — PLUS the heartbreaking passing of her daughter Bobbi Kristina Brown — on this week's episode of National Enquirer Investigates, Saturday night at 9 p.m. PT/ET on REELZ Channel!