Exclusive
Josh Waring 'Threatened To Stab 'Terrified' Wife Before Attempted Murder Arrest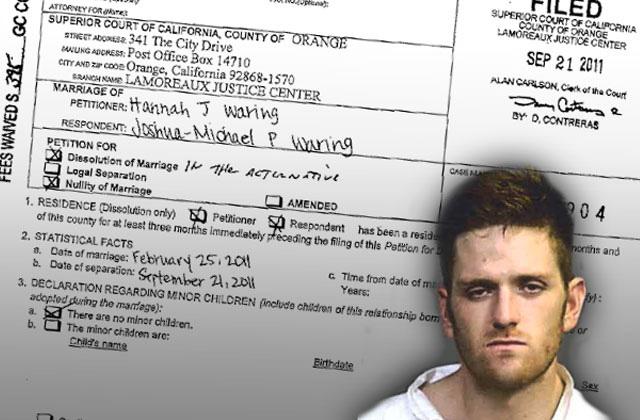 Josh Waring is currently facing attempted murder charges, but RadarOnline.com has learned his history of violent incidents goes back for many years: In 2011, according to court documents, the former Real Housewives of Orange County star's wife filed for a restraining order over claims he threatened to stab her!
Hannah Waring filed for annulment or dissolution of the couple's seven-month marriage on September 21, 2011, claiming Josh's drug and alcohol abuse and violent outbursts had made her life a living hell.
Article continues below advertisement
Requesting a temporary restraining order, she wrote on the documents, "I'm terrified … I fear my family, myself, or my belongings will be hurt or destroyed."
Josh had "threatened my family and threatened me," she wrote, claiming he "got into a physical altercation with relatives and threatened to stab my family…"
In addition, she claimed her car was "broken into and the contents stolen … also vandalized with the word slut!"
Hannah cited her reasons for the requested annulment and TRO: "Daily conflict. Drug/alcohol abuse. Destruction of personal property. Constant manipulation, lying, cheating and the inability to change obsessive behavior. Extremely,controlling, possessive and jealous."
A temporary restraining order was eventually granted to cover Hannah and several members of her family, and Josh was ordered to stay 100 yards away from them all.