Exclusive
'RHOC' Gone Wrong! Former Star Lauri Peterson's Son Joshua Waring Arrested For Robbery, Meth Pipe, In Wild Kmart Brawl With Cops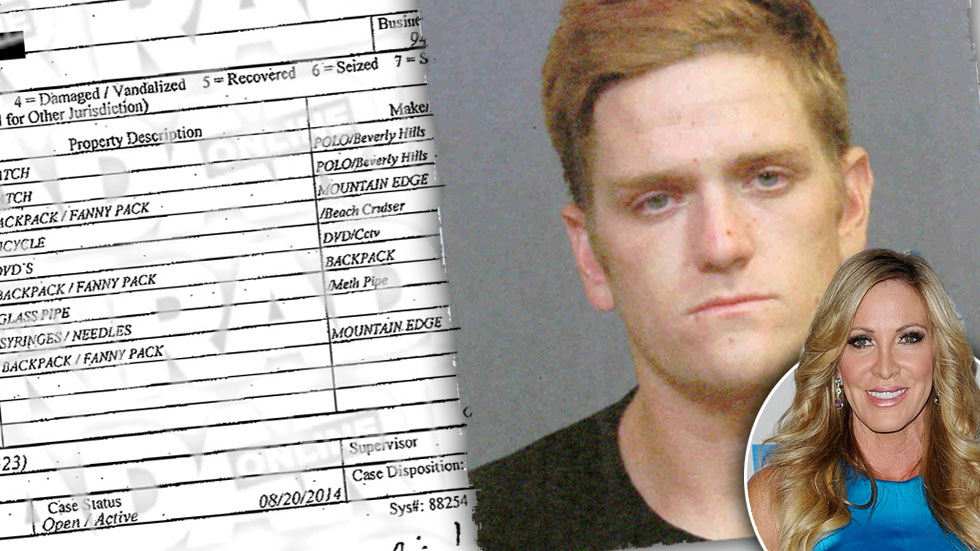 When the Real Housewives of Orange County star Lauri Peterson left the show suddenly in 2008, she admitted she needed privacy to focus on helping her son, Josh, deal with his ravaging heroin addiction. Sadly, RadarOnline.com has learned that seven years later, he's still struggling. The RHOC bad boy was recently arrested for shoplifting and possession of meth paraphernalia in a wild brawl with cops that was caught on camera!
Article continues below advertisement
According to a police report exclusively obtained by Radar, Joshua Waring was busted by Costa Mesa, California, police on August 20, 2014, over claims he stole a $35 backpack and a $39 watch from Kmart.
Waring was caught on surveillance camera "rapidly selecting watches" in the jewelry department and concealing the price tag of a black and green backpack before taking it, according to the report.
"Bending or ducking down in the aisles," allegedly to avoid the surveillance cameras, Waring eventually bought some spray paint and an Icee, according to the report, but he left the store without paying for the backpack he was wearing around his shoulders and a new Polo watch around his wrist.
When he was confronted by store security, Waring returned the backpack, but the altercation was hardly over.
Article continues below advertisement
Waring was described as "verbally and physically aggressive" when he "picked up his bicycle and swung it at the guard… with clear intent to hit him," and nearly ran over guards on his beach cruiser when he tried to get away.
After throwing his bike to the ground, the former reality kid escaped on foot, but police caught up to him at Niko Niko Sushi restaurant down the street.
There, a restaurant employee told police Waring had left behind a few belongings, which officers found to be three cell phones, a $10 bill, a box of Camel cigarettes filled with a used syringe, and glass meth pipe with "burnt residue inside," the report stated.
When questioned by police, Waring denied the drug tools were his, but when officers watched the restaurant video footage, the video showed him placing the belongings and his hat on a counter. Waring could be seen "watching someone outside," according to the report, and "looking very concerned."
He was also "evasive," per the report, and denied stealing anything – including three DVDs — from the discount store, saying he simply wanted to replace a watch band he brought to the store and didn't realize he had stolen the backpack, believing it was one he brought with them. He also accused Kmart security guards of being "very rude and aggressive towards him."
Article continues below advertisement
But police obviously didn't believe his story, eventually cuffing him for theft and possession of paraphernalia. Waring pleaded not guilty, and his charges were reduced. He was sentenced to 120 days in jail on November 20, 2014.
Waring, who's also a new father and husband, has a long history of getting comfortable in a cell after previous drug convictions landed him in prison for a year.
On June 29, 2014, court records show, he was charged with possession of an opium pipe and/or controlled substance paraphernalia. He pleaded guilty and was sentenced to 32 days in jail on September 5, 2014.
He also pleaded guilty to resisting arrest on January 26, 2015, and was sentenced to 60 days in jail, according to court records.
He has not yet surrendered to jail.