Exclusive
Paula Deen Comes Clean! Tax Records Reveal How She's Spending Fans' Donations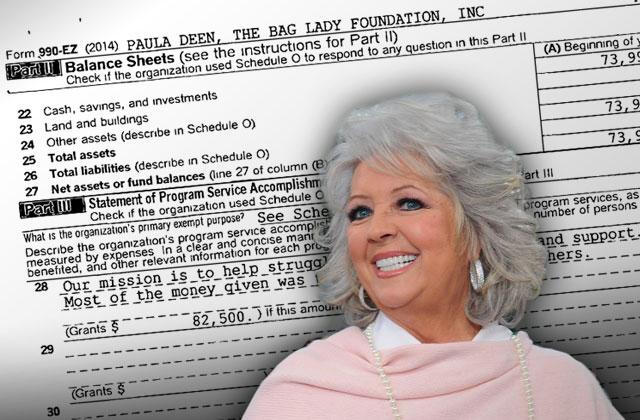 Three years after Paula Deen launched her charity in the midst of her N word scandal, RadarOnline.com has learned she has finally begun to give back!
The Bag Lady Foundation was announced in May 2013, just a few weeks before RadarOnline.com exclusively reported that she had admitted to using the N word and making racist jokes in a court deposition.
By July, the attorney for the foundation said more than $92,000 had been collected — including $70,000 from fans — and predicted that the first grant would be given out by the end of the years. But by February 2014, Gawker reported, still no donations had been distributed, as Deen's pal said such efforts had been "postponed."
Article continues below advertisement
Now, however, RadarOnline.com can reveal that tax records show the Deen charity is finally putting fans' donations to good use.
According to a 2014 tax return for the organization, filed in May 2015 and recently made available to the public, The Bag Lady Foundation brought in $198,057 in that year alone. They distributed $82,500 in grants, spent roughly $80,000, and kept the rest as carry over for the next year, leaving them with $107,502 in cash.
Where did the money go? The return states that most was directed to food banks. Meals on Wheels for Western New York, Food Bank of Western New York, and Statesboro Food Bank in Georgia each got $2,500, for example. Other notable donations included $5,000 to City of Hope cancer center in Duarte, Calif., $10,000 to veterans' charity Helping A Hero, and $5,000 to the Lafayette House drug and alcohol rehab center in Joplin, Missouri. (According a court deposition, Paula's brother, Bubba Hiers, previously went to rehab for cocaine and alcohol addiction. It is not known whether was admitted to Lafayette House.)
READ The Tell-tale Tax Filing Here
In all, 17 organizations received grants ranging from $2,500 to $10,000.
As for expenses, The Bag Lady foundation claimed to have spent $461 on event fees, $27,789 on fundraising costs, $116 on office expenses, $2,630 on paypal fees, and just $422 on travel.
Meanwhile, Deen recently took out a $3.2 million home against her Savannah, Georgia, mansion.
Would you donate to Paula Deen's charity, despite her racist past? Let us know in the comments!