Punches, Threats & Cries For Help — Inside O.J. Simpson's Vicious History Of Abuse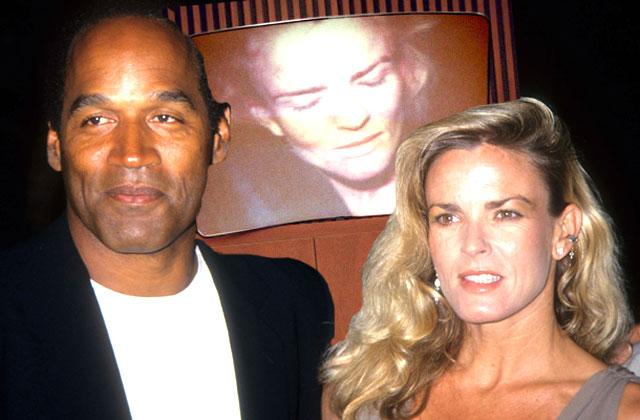 Married in February, 1985, O.J. Simpson and his wife Nicole Brown appeared to have it all. Simpson had retired from professional football and transitioned into a beloved TV pitchman, sports commentator and actor with the gorgeous blonde wife and a second-time-around family he doted upon. Brown seemed to have found the picture-perfect life with Simpson. He provided her with the status and all the money she needed to enjoy it to the fullest.
Article continues below advertisement
But the storm clouds were already brewing. Bickering would explode into arguments, small slights would become festering feuds. Voices were raised, threats were made. It was only a matter of time before the fights turned violent. It would get worse, much, much worse.
Now the new show National Enquirer Investigates exposes just how the fantasy had gone sour for Brown.
On New Year's Day in 1989, the violent argument had become terrifyingly out of control for 5-foot-5 Brown as she reeled from the muscular 6-foot-1 athlete's kicks, slaps and punches.
She ended up in the hospital for treatment of bad bruises on her face and neck. Simpson ended up in handcuffs. After calling the cops, Brown told arresting officers he'd screamed at her: I'll kill you !
Simpson told The ENQUIRER it was just a little 15-minute fight the first one where they had exchanged punches and gotten a little out of hand. Always trying to put himself above blame, he dared to suggest that his much smaller, overpowered wife was beating him up!
Article continues below advertisement
The NBC sportscaster was charged with spousal abuse but, in the first of many injustices, spent no time behind bars, escaping with two-years of probation, counseling and community service.
Trapped in an increasingly loveless marriage, Brown's carefully contrived, carefree smile for the cameras also hid a personal heartache. She underwent six abortions during the seven-year union because she couldn't bear the thought of exposing more children to her husband's blind wrath.
The abuse got worse. Simpson would sometimes lock his wife in a cramped wine cellar, forcing her to sleep on the hardwood floor. He furiously trashed their home twice, once blackening both of Brown's eyes and threatening to break both of her arms.
She would flirt with other men to rebuild her fractured psyche — only to enrage Simpson even more.
Three years after the first battering arrest, The ENQUIRER was again ahead of the game, revealing the reasons why Brown was divorcing the superstar in February 1992. He was a shameless womanizer, a double life he'd kept from his millions of adoring fans.
Article continues below advertisement
The anger was there too, always simmering, always just below the surface, ready to boil over at the least instigation.
In October, 1992, Simpson broke down the back door of Brown's home and started "going nuts,'" she told police in a frantic 9-1-1 call. Despite that break-in and thirty other 9-1-1 calls from Brown, Simpson still didn't spend a night behind bars.
Incredibly, Simpson enjoyed a cozy relationship with the cops from the west Los Angeles division, who were happy to turn a blind eye to his domestic problems. He kept them sweet with invites to his star-studded parties where booze flowed like water and the women were more than willing, according to ex-police officer Burt Kelsay. Simpson was practically one of The Boys in Blue.
But if the law had come down harder on the football great, he may have at the very least got treatment for his temper tantrums. As it was, he was set on a course for destruction.
Because Simpson, still revered across the country as a celebrity and as a man, always thought he was cleverer than everyone else. He truly believed he was above the law.
Look into the secret files of the most feared newsroom in America — as The National ENQUIRER exposes the real story behind Hollywood's wildest scandals and sensational crimes, in National Enquirer Investigates! This week, find out if O.J. Simpson really killed Nicole Brown Simpson and Ron Goldman, Saturday night at 9 ET/PT on Reelz Channel.