Watch Final Farewell To Boxing Great Muhammad Ali Before His Burial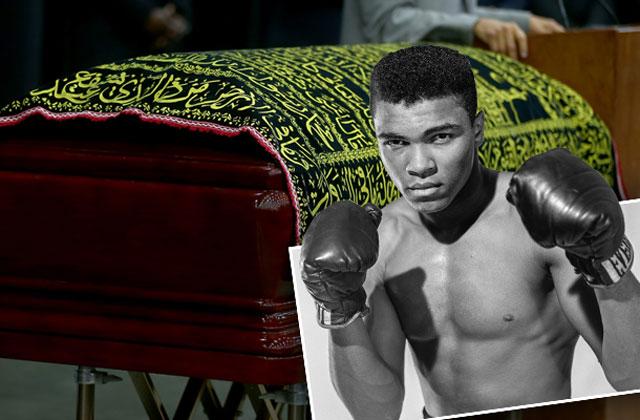 Muhammad Ali is getting one final sendoff from thousands of his fans and loved ones today in the city where he was born and loved.
A procession carrying the body of the People's Champion is following a route through Louisville, Kentucky, that mirrors his life, driving past the Muhammad Ali Center, the downtown museum and cultural center built in tribute to the three-time heavyweight boxer, past his childhood home and Central High, the school he attended and graduated from, and on to Columbia Gym, the boxing gym where the three-time heavyweight champion first trained.
Article continues below advertisement
Ali, who carefully planned his own final farewells, will then be laid to rest in a private ceremony at the Cave Hill Cemetery with former boxer Lennox Lewis and actor Will Smith, who once portrayed the boxing great in the 2001 movie Ali, acting as two of eight pallbearers.
As RadarOnline.com reported, the Olympian and social activist died on June 3 of sepsis at age 74 in Scottsdale, Arizona.
"We've all been dreading the passing of The Champ, but at the same time we knew ultimately it would come," said Louisville's mayor, Greg Fischer. "It was selfish for us to think that we could hold on to him forever. Our job now, as a city, is to send him off with the class and dignity and respect that he deserves."
Watch It Live On RadarOnline