Muhammad Ali's Shocking Secret Behind Olympic Night Of Glory EXPOSED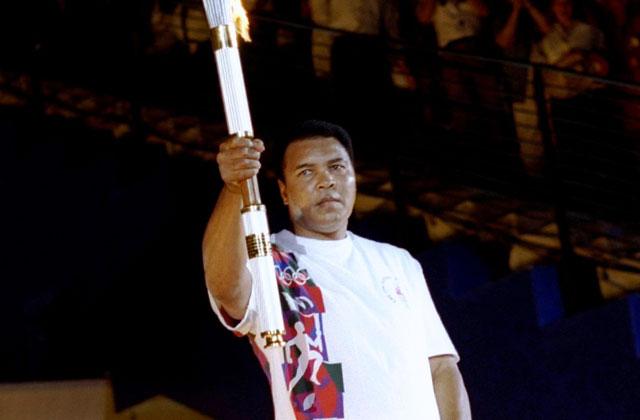 Boxing legend Muhammad Ali moved millions to tears with his courage when he lit the Olympic flame in Atlanta in 1996, defying the terrible Parkinson's syndrome that made it almost impossible for him to walk or speak normally. However, a RadarOnline.com investigation has uncovered a shocking scandal behind the iconic moment!
Doctors refused to let Ali take part in an experimental brain surgery that many believed could lead to a cure for the debilitating disease.
Article continues below advertisement
At the time, they said that the greatest boxer of all time had become too old to become a guinea pig for medical research. Then 54, he was the same age as Paul McCartney and Harrison Ford.
Ali – who no longer floated like a butterfly but whose wit was still sharp enough to sting like a bee – insisted on appearing at the Atlanta opening ceremony to give other sufferers hope.
Fans around the world wept as they watched America's most beloved athlete clutch the Olympic torch with his one good hand and raise it painfully slowly above his head.
As Ali struggled to steady the roaring flame, his left arm shook uncontrollably. The cheering died to an anxious hush as the once-great athlete struggled to light the final torch, which was hoisted up to the top of the stadium.
In the days before the emotional ceremony, Ali quelled the fears of his pals who dreaded the occasion might overwhelm him.
"I have to be there!" he insisted. "I know there'll be a cure in my lifetime and I'm determined to help find it."
Article continues below advertisement
Doctors at the time hoped that a new procedure of transplanting brain cells from aborted fetuses could be the big break Ali was looking for.
Unfortunately, by the mid-90s the boxer's condition was too advanced for him to qualify for the surgery.
Angelo Dundee, Ali's former trainer and longtime friend, told RadarOnline.com when the boxing great was still alive: "Muhammad Ali is an inspiration to millions. He refuses to try the quack cures that arrive in the mail every day because he has every confidence in his doctors."
Another pal recalled how the stricken athlete had come to terms with the debilitating disease.
"He was in public one time and a woman started crying when she saw his shaking, slurred speech," they recalled. "He said to her, 'Why are you crying? I've had a beautiful life, I've been lucky. Don't cry for me.'"
Instead, the father-of-nine Ali devoted all of his time to raising funds to fight the illness – and appeared at sporting functions to show other sufferers that they can lead relatively normal lives.
Article continues below advertisement
Ali's friends said the three-time heavyweight champ relied heavily on his fourth wife Lonnie to dress and feed him.
But they insist he understood everything going on around him perfectly.
"He may come across as punch drunk but his brain is still there and working," a friend said at the time. "It's tragic to see but he will not be beaten by this disease."
The syndrome gets worse as a sufferer gets older and many feared that the athlete would eventually become confined to a wheelchair.
Around the time of the Atlanta Olympics, he was also suffering from hyperglycemia, which is a diabetic side effect, and he couldn't stand bright lights.
After the disease took hold, Ali spent a lot of quiet days with his family and friends on his 88-acre farm in Berrien Springs, Michigan. Neighbors often saw him along back roads or driving around in his Rolls-Royce.
As RadarOnline.com previously reported, Ali will be laid to rest on Friday at 2pm at KFC YUM! Center in Louisville, KY. At his own request, the service will "held in the Islamic tradition," will be open to all, and live-streamed around the world. Former President Bill Clinton will be delivering the eulogy.