Cincinnati Zoo Gorilla Shooting Update: Mom Of Boy Who Fell Questioned By Police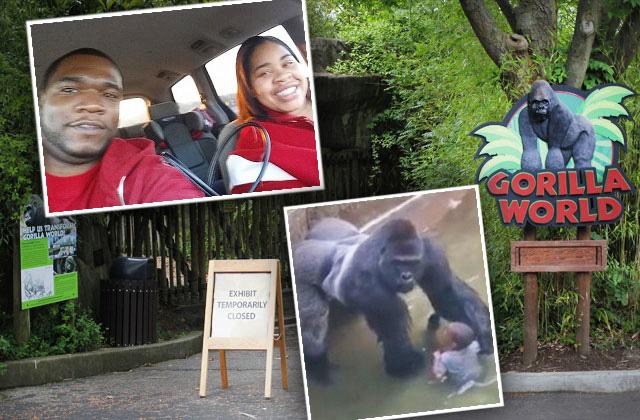 The mother of the young boy who fell into the gorilla enclosure at the Cincinnati Zoo on May 28 — where gorilla Harambe was shot and killed — is being questioned by police, RadarOnline.com has learned.
According to reports, local authorities are investigating whether to bring child neglect charges against Michelle Gregg, 32, and Deonne Dickerson, 37.
As reported, Saturday's incident ended when zoo officials — afraid the 450 lb., 17-year-old endangered Western Lowland gorilla would harm the child — shot and killed the animal.
Article continues below advertisement
Reactions to the gorilla's shooting came quickly, with many calling for the parents to be punished for not keeping better watch of their young boy.
Gregg and Dickerson have since released a statement on their son's current state, sharing: "Our child has had a checkup by his doctor and is doing well…If anyone wishes to make a gift, we recommend a donation to the Cincinnati Zoo in Harambe's name."
Meanwhile, the Internet has been blowing up over justice for Harambe.
One petition, including hundreds of thousands of signatures, even demands that the parents "be held accountable for the lack of supervision and negligence that caused Harambe to lose his life" and "actively encourage an investigation of the child's home environment in the interests of protecting the child and his siblings from further incidents of parental negligence that may result in serious bodily harm or even death."
Harambe's caretaker, Jerry Stones, mourned the gorilla's death, stating: "He was like one of my sons. He was beautiful and a true character — so mischievous and not aggressive. He would throw water on the female keepers before running back and hiding in the back of his exhibit like 'Haha, I got you.' He would take a keeper's blanket and just run off. Very fun loving and so intelligent."