Christina Grimmie's Family Reveals Tragic New Murder Details At Memorial Service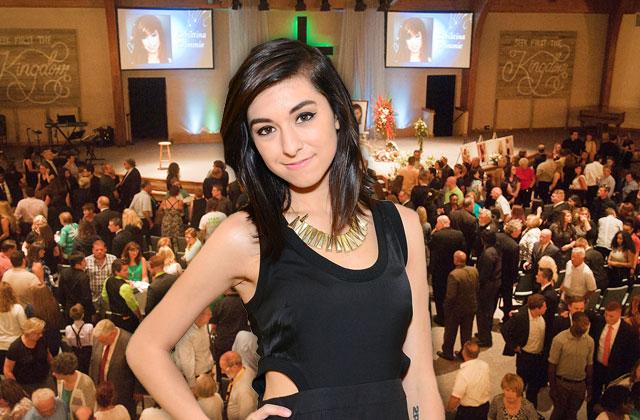 Loved ones gathered in a New Jersey church to mourn the loss of The Voice singer Christina Grimmie, who was tragically shot dead by an obsessed fan.
Thousands attended a 90-minute memorial service Friday evening at the Fellowship Alliance Chapel in Medford. Grieving family put up a giant photo of Grimmie and mourners laid piles of flowers at the altar. While some shared memories of Grimmie's life, others revealed new details of the 22-year-old star's brutal slaying.
Article continues below advertisement
"I don't have too much to say. I could tell you about the memories of when she was a baby and she lah-la-lahed and when she was getting a bath I'd tell her to sing for Jesus," Grimmie's mom Tina said through tears.
Tina also noted she had last seen her daughter when she helped her mother celebrate her birthday at the end of May at the Cheesecake Factory.
"I always told her I loved her and to put God first," said heartbroken Tina.
Grimmie's brother Marcus confirmed some shocking details about the murder during the emotional service.
"All the rumors are true, when the gunman came, he was very quick, it happened so fast, her arms were open and she saw Jesus next," said Marcus. "Her arms were open for him, her arms were open at all times. I love you Christina, you are the best."
As RadarOnline.com reported, Marcus tackled James 27-year-old Kevin Loibl after he shot Grimmie three times during a fan meet and greet following her June 10 concert in Orlando. Loibl shot and killed himself during the scuffle.
"She is not going to be hurting... This is where I am wrestling, God's plan is better than my plan," said Grimmie's father, Bud, at his daughter's memorial. "I've argued with God, 'Your plans are better than mine?' This doesn't make sense."