Exclusive
Charlie Sheen's Secret Confession: I Had Sex Without A Condom — After HIV Diagnosis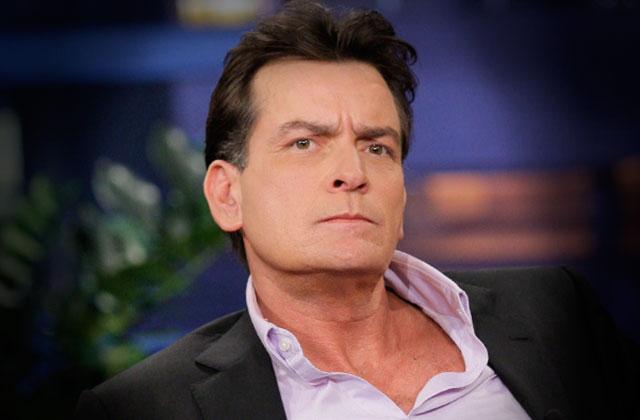 A blockbuster documentary set to air on Saturday will broadcast secret audiotapes of Charlie Sheen admitting he had unprotected sex with a woman — after he was diagnosed with HIV.
The recordings are at the center of a potentially devastating criminal investigation for Sheen and a standoff between the Los Angeles Police Department and The National ENQUIRER.
The LAPD's Threat Management Unit hit The ENQUIRER with a search warrant in April but the media organization refused to handover the recordings that purportedly feature Sheen threatening his former fiancée Scottine Ross. The editor of publication — who received the tape — said at the time that the subpoena violated the law.
Article continues below advertisement
But The ENQUIRER will finally publish the explosive tape as part of its popular National Enquirer Investigates series set to air on June 25, RadarOnline.com has learned.
On it, a woman who recorded the conversation is heard blasting the depraved Sheen.
She asked: "Why did you tell me you were not infected?"
The disgraced Two and a Half Men star, 50, is then heard admitting not only having unprotected sex with the woman without first revealing his HIV status, but also that he outright lied to the partner — telling her he was not infected by the virus.
He is heard screaming: "Because it's none of your fucking business, OK?"
"But if I wanted to have sex without a condom … it's my right to know," the woman later insisted.
"You shouldn't want to," answered Sheen.
The conversation represents an entirely different story than the one Sheen has been telling the world in the wake of his bombshell November confession that he had contracted the HIV virus.
Sheen went on TODAY and was grilled about his sex life by anchor Matt Lauer.
Article continues below advertisement
"Have you since the time of your diagnosis told every one of your sexual partners before you had a sexual encounter that you were HIV-positive?" asked Lauer.
"Yes, I have," answered Sheen.
"No exception?" Lauer asked.
"No exception," Sheen insisted.
However, the investigative documentary — airing on cable network REELZ on Saturday — will "prove otherwise," according to a top law enforcement source who has viewed the film.
"Failing to disclose HIV status to a partner is against California law and is punishable by up to eight years of imprisonment for an person to 'willfully expose' another person to HIV through unprotected sex," the individual said.
"The LAPD believes the recordings set to air could provide potential evidence of felony crimes."
The film will also expose the barefaced lies Sheen peddled during a media tour in London last week to promote Lelo Hex condom, a contraception made up from hundreds of hexagonal plates making it stronger than previous designs.
Article continues below advertisement
In a fawning interview with The Sun, the booze-stricken Platoon and Wall Street star claimed he only had unprotected sex twice in his life.
Said Sheen: "I was always the guy that promoted it and said you've got to use condoms, this and that. I was too drunk or too bored one night and here we are."
But RadarOnline.com has learned FIVE WOMEN have gone public to expose that as a lie: Ross, his one-time ex Amanda Bruce, so-called "Goddesses" Bree Olson and Natalie Kenly — and an unnamed victim who successfully sued Sheen after producing text message proof of his cover-up.
In her lawsuit, a claimant produced a damning text which said, "How could you do this to me? How could you expose me to HIV without telling me?"
Sheen allegedly responded, "Oops, sorry, I guess we'll need to figure this out now."
A sixth woman, who dated Sheen for months and spoke to RadarOnline.com on the condition she would not be identified, said: "I am aware of many women he had unprotected sex with during the period he was covering up his HIV status, and two is not the number. He is dreaming."
A top Los Angeles lawyer also told The Mirror: "In the immediate aftermath of Sheen's HIV confession on TODAY, I was contacted by one partner who claimed she had unprotected sex one week before and he never told the person he was infected.
"A second individual claimed they had sex with Sheen three weeks prior. He didn't tell them he was HIV-positive either."