'Missing Suicidal' Sinead O'Connor Still Missing After 24 Hours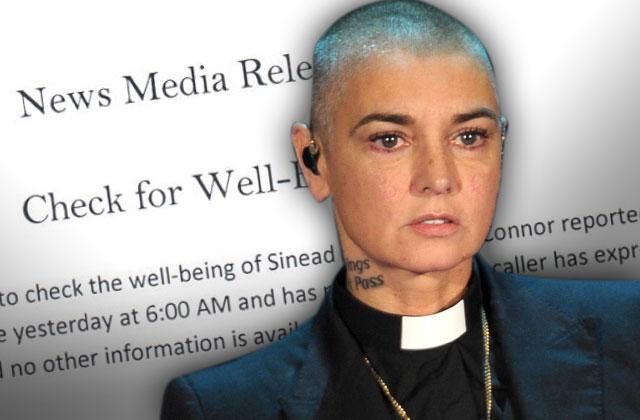 Sinead O'Connor is still missing after she disappeared early yesterday morning, RadarOnline.com has learned. The singer reportedly left for a bike ride at 6 a.m. and hasn't been seen since, RadarOnline.com has learned.
The Wilmette, Illinois, police department told RadarOnline.com, "O'Connor reportedly left the Wilmette area for a bicycle ride yesterday at 6:00 AM and has not returned. A caller expressed concern for her well-being and no other information is available at this time."
Article continues below advertisement
Now, police are trying to find the 49-year-old songstress and classified her as "missing suicidal."
It's just the latest in a series of troubling incidents involving the singer.
In November, O'Connor worried fans after posting a cryptic message on Facebook that was suspected to be a suicide note – claiming that she had "taken an overdose."
"Apparently I'm scum and deserve to be abandoned and treated like s–t even when I've had my womb and ovaries chopped out and my child is frighteningly sick," she wrote. "I'm such a rotten horrible mother and Person, that I've been alone. Howling for weeks."
"Well done guys, you've finally got rid of me. Sorry the penny didn't drop sooner. I'm an idiot," she continued. "Everyone is better off. Never ever do this to a woman again."
And as RadarOnline.com exclusively reported, O'Connor was recently sued by Arsenio Hall for $5 million after she claimed that he was Prince's drug dealer.
"The malicious statements made by O'Connor are absolutely false, and O'Connor's heinous accusations that Hall engaged in this criminal conduct are despicable, fabricated lies," the lawsuit obtained by RadarOnline.com states.
UPDATE:
Police announced at 1:45 p.m. local time that O'Connor "has been located. She is safe and is no longer listed as a missing/endangered person."