Exclusive
Arsenio Hall Supplied 'Long Time User' Prince With Drugs, Sinead O'Connor Claims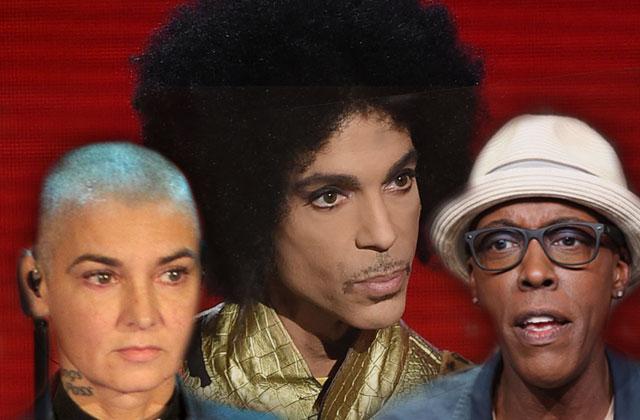 As unanswered questions continue to swirl surrounding the sudden death of Prince, a bombshell new allegation has come from an unexpected source: Irish singer Sinead O'Connor posted a disturbing rant on her Facebook page this afternoon claiming Arsenio Hall was behind the iconic musician's death!
"Two words for the DEA investigating where Prince got his drugs over the decades," she wrote in the outrageous post. "Arsenio Hall…"
Article continues below advertisement
"Anyone imagining Prince was not a long time hard drug user is living in cloud cuckoo land," she continued.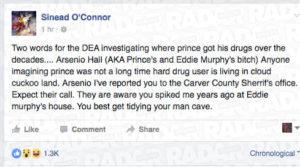 "Arsenio I've reported you to the Carver County Sheriff's office. Expect their call. They are aware you spiked me years ago at Eddie Murphy's house. You best get tidying your man cave."
Reps for O'Connor did not immediately respond to Radar's request for comment, and neither did the Carver County Sheriffs.
This is just the latest in a series of troubling outbursts by the former music superstar. In October 2013, she wrote at least four open letters eviscerating Miley Cyrus.
And in November 2015, she posted a troubling suicide threat on her Facebook page.
Her last post before the Prince rant claimed that she was "fed up with getting spied on."
As Radar reported, Prince was found dead at the age of 57 on April 21 in his Paisley Park estate in Minnesota. Toxicology reports are still pending, and there is an open police investigation into the circumstances surrounding his death.
As The National ENQUIRER reported, he struggled with AIDS in the months before his passing.
UPDATE:
A rep for Hall told Radar, "The statement regarding Arsenio Hall is absolutely false, ridiculous and absurd."