Exclusive
'Desperate' & 'Despicable!' Arsenio Hall Sues Sinead O'Connor Over 'Lies' He Was Prince's Dealer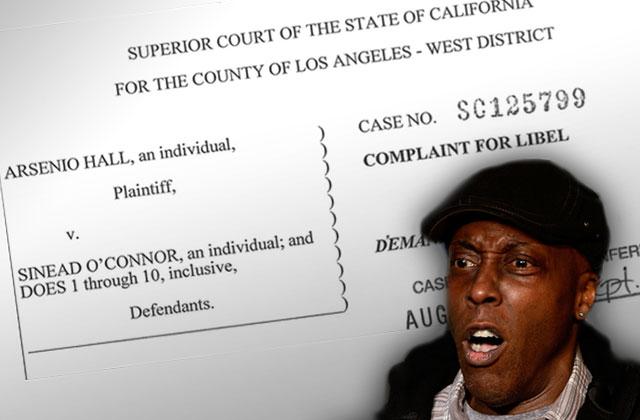 Arsenio Hall has filed a bombshell lawsuit accusing Sinead O'Connor of libel after she said he gave Prince illegal "hard drugs" "over the decades" before his death, RadarOnline.com has learned.
As RadarOnline.com reported, O'Connor claimed in a bizarre Facebook post that Hall was "where Prince got his drugs" before his death at 57 on April 21.
Hall's rep strongly denied the accusations at the time, but now the comedian has taken it one step further with a $5 million lawsuit.
Article continues below advertisement
"The malicious statements made by O'Connor are absolutely false, and O'Connor's heinous accusations that Hall engaged in this criminal conduct are despicable, fabricated lies," the lawsuit obtained by RadarOnline.com states.
"O'Connor is now known perhaps as much for her bizarre, unhinged internet rants as for her music," the complaint blasts. "This time, she targeted Hall with wild and false accusations that he had been Prince's drug supplier for decades and had somehow been responsible for Prince's death."
"However, O'Connor knew that there was no truth whatsoever to the vicious lies she spewed about Hall on her Facebook page …"
As RadarOnline.com reported, O'Connor had a tumultuous relationship with Prince over the years. And "Hall has only had minimal contact with O'Connor, and last had contact with her approximately 25 years ago," the document states.
Calling her a "desperate attention-seeker" spewing "despicable, fabricated lies," Hall's attorneys claim that "as a direct and proximate result" of her conduct, Hall has suffered at least five million dollars in damages.
They've asked the court for a jury trial to make her pay.
There will be a hearing on August 23.
Story developing.