Leah Messer Rips Miranda Simms For Refusing To Help Daughter With Muscular Dystrophy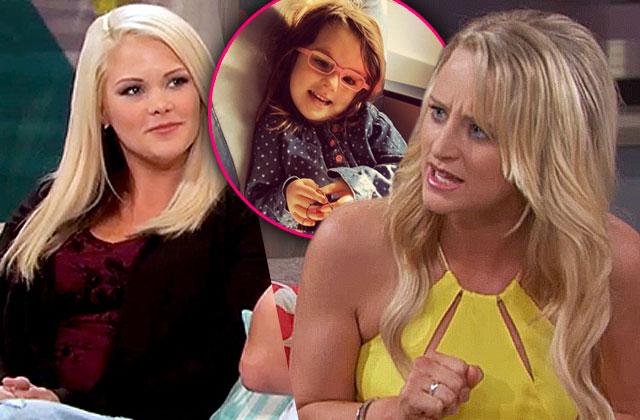 Is there a new monster mom on Teen Mom 2? Despite Leah Messer facing criticism for her parenting skills all season long, she slammed her ex-husband Corey Simms' wife Miranda for refusing to help her stepdaughter Ali, who suffers from muscular dystrophy, carry her heavy backpack.
"Miranda always gets mad at me cause my backpack is too heavy," the 6-year-old heartbreakingly said in a recording sent to Leah by her cousin. "I give her my backpack when it's too heavy… she says, 'Ali, I have to hold the baby.'"
Article continues below advertisement
Ali even revealed how Corey and Miranda's daughter Remi "always gets to get attention."
"I can't watch it without getting angry or wanting to cry… I don't know what to do," Leah told her sister Victoria, who responded, "Carry the f**king backpack too!"
Victoria continued, "There's nothing wrong with you going down there and saying, 'I'm tired of my kids hurting.' Ali has a condition, she can't help it that she can't carry the damn backpack. So the lazy b***h needs to pick the backpack up and carry it for her period. There is no reason that kid should feel that way."
Leah, 25, then revealed how her daughter is "upset" and "hurt" by her stepmother's behavior.
"What do I do?" the mother-of-three asked. "I want to save them. I want to make them feel better, I want to rescue them and I can't. There's nothing I can do and they're my kids."
Victoria continued to slam Miranda, explaining how just because she gave birth to Remi doesn't mean she should treat her stepchildren any different.
Article continues below advertisement