Exclusive
Meddling Mom-In-Law Kris Warns Kim: Kanye's Spoiling Your Son!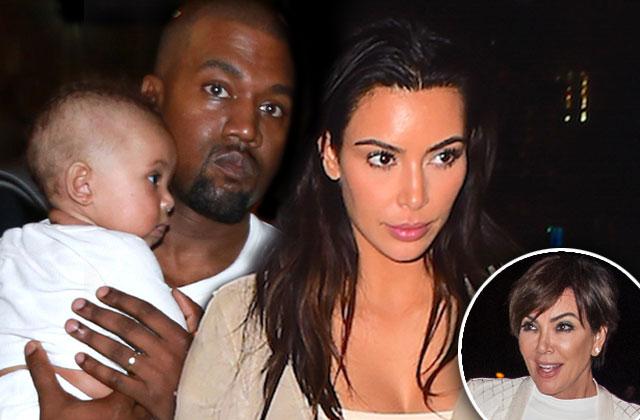 Kris Jenner raised a brood of overindulged children, and now the controlling momager has decided she absolutely knows what's best for her grandson, Saint West, too!
RadarOnline.com has exclusively learned Jenner, 60, is criticizing Kanye West over his fathering skills, and she's gone as far as warning daughter Kim Kardashian that five-month-old Saint is quickly becoming a spoiled brat.
Ironically, said a family insider, "Kris can see it coming a mile away," since "Kanye treats Saint like he's some kind of son of God."
Article continues below advertisement
"Kris has warned Kim that she'll have problems with both Saint and his sister North if Kanye doesn't stop showing the boy such preferential treatment," continued the source.
It turns out it's likely Jenner's fault that West, 38, is so involved with Saint — and that the rapper's determined not to repeat the same mistake he made with his nearly 3-year-old daughter.
"The problem is that Kanye let Kim and Kris take the lead when North was born and next thing he knows the poor kid's on the KUWTK payroll," noted the source. "He doesn't want this to happen to Saint so he's being super protective of him, but it's coming across as favoritism."
However, added the source, "Kris might have a point about spoiling the kid, but it's bizarre considering how she raised her own fame-hungry and greedy kids."