Exclusive
Poor Little Rich Girl! See Kimye's Crazy Schedule For North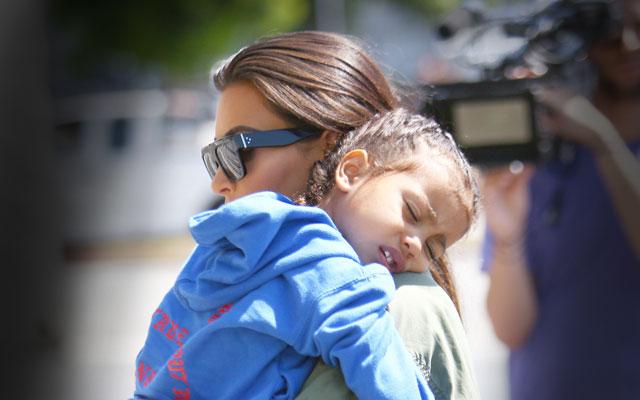 Kanye West thinks he's a god, so it's no surprise that he expects his daughter to have superhuman abilities! RadarOnline.com has learned that North West is put through the wringer with a wild lineup of daily activities.
"North takes way too many classes — dance, ceramics, tai chi, even fencing," a source told RadarOnline.com.
A family insider added, "Her parents want her to try everything, and think North needs constant stimulation. They don't seem to get that toddlers need downtime, and North doesn't get enough!"
Article continues below advertisement
As a result, the insider claimed, the cutie is often sleepy and cranky.
Other Kardashian/Jenner family members worry North is being pushed too hard, said the source, but Kardashian and West — also parents to 4-month-old son Saint — turn a deaf ear.
"Kourtney and Kris keep telling Kim there's plenty of time for North to do all this stuff. She doesn't need to take French lessons and be exposed to Vivaldi," added the source. "But Kim won't listen!"
Article continues below advertisement
"They read about Suri Cruise dancing on pointe when she was 3, so they rushed to the ballet teacher to see when North would be able to do the same," the insider dished to Radar.
"Or they'll see a photo of 4-year-old Harper Beckham painting, and start discussing North's 'portfolio' — as if she's the next Picasso!"
North is only 2, but her crazy schedule could put a grown woman on bed rest! Here's a sampling of her daily itinerary:
6:30 a.m. — Wake up to Vivaldi
6:45 — Eat breakfast of fruit, non-fat yogurt and gluten-free bread
7:00 — Fitness lesson, including jumping and calisthenics, with in-house toddler fitness trainer
7:30 — Weigh-in
7:45 — 15 minutes of free time
8:00 — Guided play with teacher-directed role-playing. North likes to put on a costume and be Anna in "Frozen"
8:30 — Story time in French
9:00 — Personal hygiene, including teeth-brushing lessons, and choosing clothes from
Article continues below advertisement
massive designer collection
9:30 — Swim lesson, ballet lesson, gymnastics with flag twirling or makeup lesson
10:30 — Snack on oatmeal and low-carb, sugar-free shake
11:00 — Reading in French
11:30 — 15 minutes of free time. North likes to play designer, and dress her collection of 150 dolls in Givenchy doll clothes
11:45 — Pre-lunch massage by licensed toddler masseuse
Noon — Eat lunch of fish or chicken with fat-free sauce
12:30 p.m. — Reading and writing practice in English
1:00 — Nap, but North usually falls asleep during previous activity
2:00 — Wake up to Mozart
2:30 — Art lesson in origami, pottery and Chinese calligraphy, but North just wants to finger paint!
3:30 — Snack on fat-free yogurt
4:00 — Music lesson in flute and African drums
5:00 — Computer time! North works on her fashion blog with a fashion assistant
5:45 — Free time
6:00 — Eat dinner of pasta or meatballs with fresh fruit for dessert
6:30 — Watches Mommy or Daddy on TV, and they quiz her on what she learned that day!
7:30 — Bedtime stories in French and English
8:00 — Falls asleep on floor — too tired to move!