Jenelle Evans' Son Jace Claims She Ignores Him During Visits Amid Child Abuse Scandal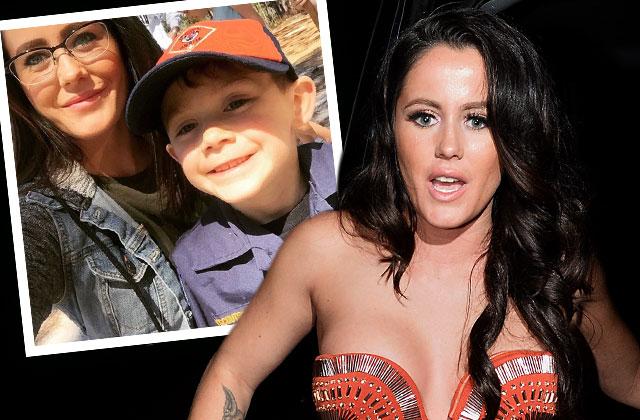 Jenelle Evans has been fighting her mother for years to regain custody of her oldest son, but does the Teen Mom 2 star really want to have Jace around full time? On this week's episode, the 6-year-old heartbreakingly revealed his mother ignores him when he's at her home.
When Barbara Evans asked her grandson what he does when he visits his mother, he replied, "We sit there all day. We watch videos, that's it."
Article continues below advertisement
Babs then asked if Jace ever goes to the playground with Jenelle, as he responded, "No, not anymore. Mommy wants to sleep all day. They're sleeping all the time. It's spooky."
Jenelle's mother witnessed the snub first-hand when she saw Jace and David Eason's daughter Maryssa playing outside with no adult supervision.
"You got all the kids outside, nobody's watching the kids," Babs screamed, as she tried to open her daughter's locked bedroom door. "Can somebody please open the door?"
David then walked out with Jenelle's son Kaiser, leaving her locked in the bedroom.
"What do you got her in prison David?" Babs asked. "She can't come out of the room? If you think Jace is going to stay here…"
When Barbara continued to yell, he told her to leave if she's going to scream because she's in his home.
"You live here and she pays the bills like every other guy," Babs jabbed.
David shot back, "You need to stop yelling in front of my kids. This is called child abuse. You're yelling in front of my child."
MORE ON:
Jenelle & David's Marriage Drama
Article continues below advertisement
Babs willingly left when police arrived, as she confided to her grandson, "I don't understand why mommy doesn't want to see me anymore."
When Jenelle called her mother, she explained why she refused to speak with her.
"I am avoiding you because I don't want to deal with you unless it has to do with Jace," she said. "Shut up, be quiet and let me speak. Every time we talk you ruin my entire day. And if you want to hold Jace from me because I choose not to speak to you then so be it and I will see you in court."
When Babs hung up with her daughter, Jace confessed how his mother doesn't want him around.
"They're always in the room and they're always complaining about me being there," he said, as she responded, "I won't have you go there if this is how it's going to be."
Teen Mom 2 airs Mondays at 10/9c on MTV.