Jenelle's Mom & Boyfriend Brawl — How The Cops Were Involved Revealed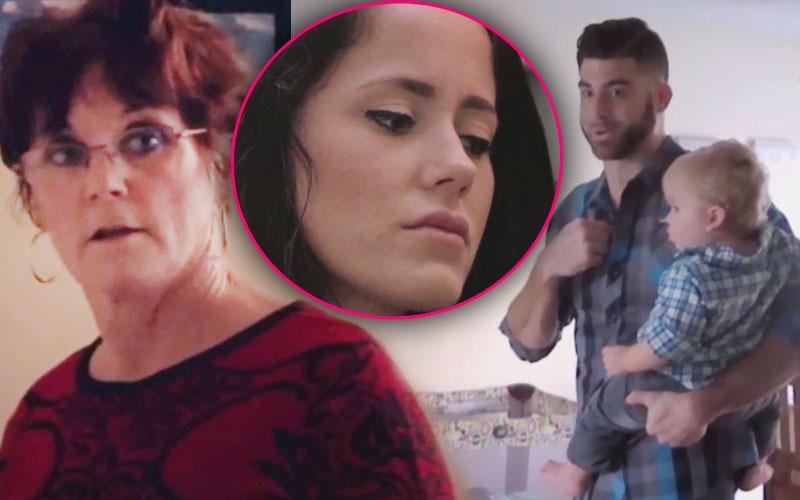 Jenelle Evans and her boyfriend David Eason may have settled their differences with Barbara Evans as RadarOnline.com exclusively reported, but months ago when they were filming the current season of Teen Mom 2, the family was involved in a nasty war.
As Radar reported back in January, Eason called the cops on Barbara after getting into a fight with her at the home he shares with Jenelle.
Now, in a preview for the upcoming episode, the events of that day are finally revealed.
Article continues below advertisement
Barbara shows up at Jenelle's home to find Jace and Eason's daughter playing in the front yard without parental supervision.
She enters the house, calling out for Jenelle, who never answers.
Barbara finds that Jenelle, 24, has locked herself in her bedroom along with Eason and her 1-year-old son Kaiser.
"What the heck? You got all the kids outside. Nobody's watching the kids," Barbara told Jenelle. "Can somebody please open the door?"
In the background, Eason informs Jenelle that Barbara is screaming "at the bedroom door."
Jenelle finally reponds to her mom.
"Leave me alone," she moaned.
At this point, Barbara has grown frustrated, and the kids tell her that they think Jenelle is sleeping.
"What do you got her imprisoned David?" Barbara questioned. "She can't come out of the room? If you think that Jace is going to stay here…"
Finally the door opens and Eason walks out.
Article continues below advertisement
"What is going on?" Barbara demands.
Eason informs Barbara that Jenelle doesn't want to talk as he walks out to the main part of the house.
Barbara now thinks that Eason is keeping her daughter from her.
"Yeah, why? Because you told her not to?" she asks.
Apparently Jenelle locked the door again when Eason walked out and this pushes Barbara into a frenzy.
She starts screaming and Eason puts his foot down about Barbara's behavior.
"You can leave if you are going to yell at me," he warned.
Barbara tells him he can call the police because she's not leaving.
"You will leave," he said. "You're in my house."
"You live here and she pays all the bills like every other guy?" Barbara replied.
As Radar previously reported, Eason did call the police on Babs in January and MTV filmed the whole incident for the show.