Exclusive
It's Not Over! Heather McDonald Reignites Feud With Chelsea Handler In New Interview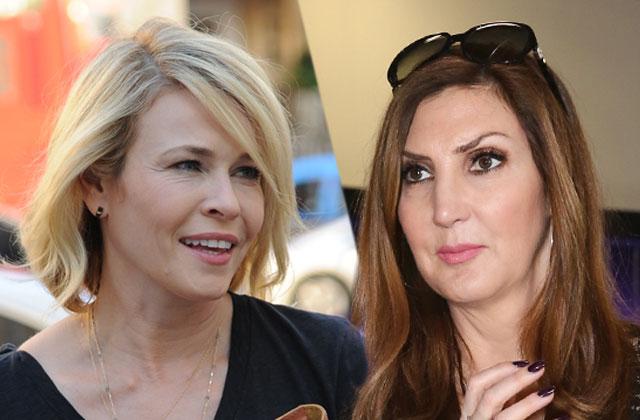 Chelsea Handler's feud with her former Chelsea Lately employee Heather McDonald, is back on! In an interview with RadarOnline.com Tuesday night, McDonald couldn't help but pick at old wounds.
"I don't know why Chelsea said that I sold stories because I never did!" McDonald insisted in a chat with Radar. Handler previously said she gave weekly magazines info on her boss in exchange for positive coverage of her own projects.
Article continues below advertisement
"Anyone that worked for her show will vouch for that. It was absolutely not true. I still don't know why she said it, but I wish her well."
"Unfortunately, I did not have a spot on Howard Stern to defend myself," McDonald jabbed, referencing Handler's promotional tour at the time of the feud.
Now, "I am glad that she is happy and that she is doing her own thing. Everyone is doing well and I think that we have all moved on from that," McDonald told Radar while attending The Abbey's 25th Anniversary celebration in West Hollywood, Calif.,
"Chelsea Lately was a great time and everyone from that show is doing great things now," McDonald – who is currently on tour while doing a wildly successful podcast, Juicy Scoop with Heather McDonald. "I am just glad it is over with."
The battle between Handler, 41, and McDonald, 45, began when McDonald appeared on Theo Von and Matthew Cole Weiss' podcast, Allegedly. While chatting on the podcast, McDonald said that she "100 percent lived in fear" as a writer for Chelsea Lately, which ran from 2007-2014.
SHOCKING PHOTOS: More To Love? Chelsea Handler Cover Up New Curves In Mexico
After Handler got word of McDonald's comments, she fired back by telling Howard Stern's Sirius XM radio show, "When I found out at work that she was trading stories to Us Weekly about my personal life in exchange for having her pictures run in the magazine, I could have fired her."
Are you Team Chelsea or Team Heather? Tell us your thoughts in the comments below!