Watch First Emotional Interview With Colorado Killer James Holmes' Mom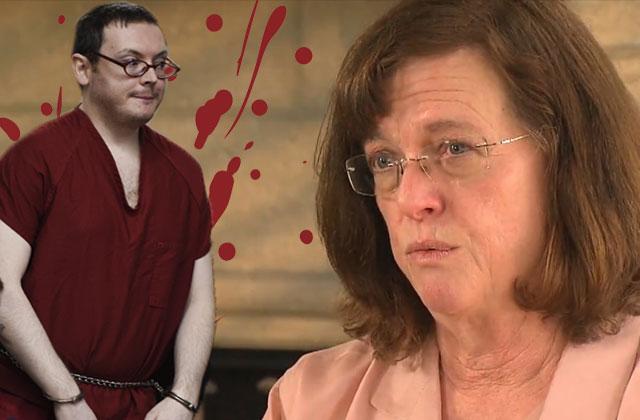 Evil mass murderer James Holmes' mother is finally revealing her thoughts on her son's horrific 2012 killing of 12 people in a Colorado theater.
"They're on my mind every day, it's the first thought when I wake up in the morning," Arlene Holmes confessed in an interview with San Diego's 10News.
"I'm very cognizant of how bad this all was, and I'm praying for their healing; mentally, physically, emotionally," the registered nurse continued of her son's "horrible" actions. "I can't erase the day but I wish I could. The way that I want to honor their injuries and their distress is to try and help prevent something this bad from happening again."
Article continues below advertisement
Arlene gave some insight into her son, who was sentenced to 12 consecutive life sentences plus 3,318 years. He will never be eligible for parole.
"Through elementary school he was a happy kid, had lots of kids over to the house," she noted.
"He was chattier when he was younger, and over the course of a decade he got quieter and quieter," she revealed.
Family therapy didn't help when they tried it in an effort to lighten their pre-teen's darkening moods.
"My son had a diagnosis of schizophrenia which I didn't know about until I sat in the trial," said Arlene in a bombshell revelation about James, who chose May to conduct her first interview on the matter since it's Mental Health Awareness Month.
"I want to show respect for the victims," she explained. "I talked to other people about signs and symptoms of people who have problems with mental health and they told me it's been helpful, so I want to share the lessons that I've learned."
Article continues below advertisement
"At the same time, I want to acknowledge that my son did indeed do something very terrible, and it was a great tragedy. Many people were killed, many people were harmed, and I want to focus not on him, but on education."
Arlene gave parents struggling with their own kids' issues some serious advice: "Don't try to solve it yourself, get some help, some professional help," Arlene insisted. "This is what I have to offer, I failed to be educated and I want to offer up that failure as advice to other people."
WATCH THE ENTIRE INTERVIEW