Hugh Hefner Named In New Bill Cosby Sexual Battery Lawsuit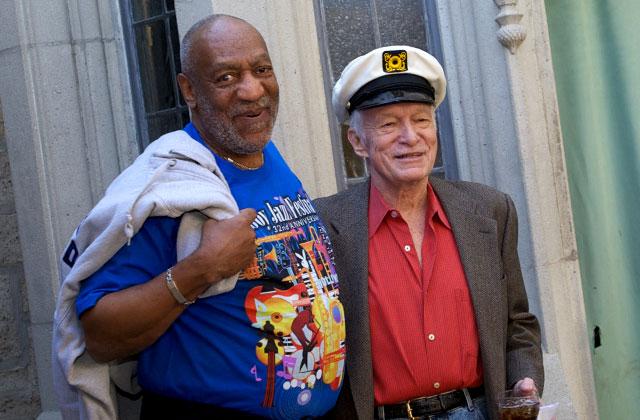 Bill Cosby sex assault accuser, Chloe Goins, may have filed a formal dismissal of her federal lawsuit against the beleaguered comedian just three months ago, but now, the model is back, accusing Cosby for sexual battery, gender violence and other claims stemming from an alleged Playboy Mansion incident in 2008.
Meanwhile, newly named defendant, Hugh Hefner, has been slammed with accusations of negligent infliction of emotional distress and conspiracy.
Article continues below advertisement
"Defendant HEFNER's actions of inviting and hosting young and impressionable and possibly minor children lo his residence, and providing alcoholic beverages and or foreign substances was negligent at the very least," the official court documents read. "Additionally, his act of inviting or housing and introducing Defendant COSBY, the Defendant HEFNER knew or should have known had a history of severe and serial sexual battery and or possibly rape of women was negligent at the very least, and Defendant HEFNER knew or should have known such actions would lead to harm of his invitees and Plaintiff."
As Radar previously reported, Goins claims she was drugged and sexually abused by Cosby during an August 9, 2008, run-in at the famed mansion of Playboy founder, Hefner.
Goins — who began speaking with authorities in early 2015 —claimed Cosby, 78, handed her a drink, and she lost consciousness, only to awaken to find the comedian's mouth on her toes while he was touching himself. He abruptly left after she told him she was uncomfortable. Goins subsequently filed a sexual assault lawsuit against Cosby.
Article continues below advertisement
What's more, Goins now alleges that Hefner was part of a "conspiracy" that made it possible.
"We didn't go away. We just didn't want to publicize what we were doing. As we continued to investigate, we found additional evidence that we felt pointed toward Mr. Hefner being complicit," Goins' lawyer, Spencer Kuvin, told the New York Daily News on Monday. "We thought it was more judicious to file in state court, where we'd have more leeway with respect to discovery."
Though the twenty-something's decision to dismiss the original lawsuit indicated that a settlement had been reached, its "without prejudice" clause allowed her to attempt to bring Cosby to court again, as she did this week.
As Radar readers know, Cosby is currently fending off several civil lawsuits, and was even charged criminally by Pennsylvania prosecutors in December for the alleged assault of Andrea Constand. The comedian has pleaded not guilty in the case.