Exclusive
Amber's Secret Hell: Heard Claims She Is 'In Fear' After 'Violent Attack'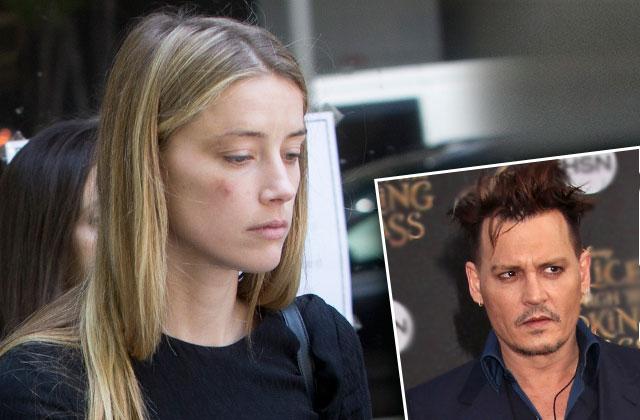 Amber Heard has suffered in silence for months at the hands of Johnny Depp, her attorneys claimed in newly filed court documents obtained by RadarOnline.com.
As part of today's restraining order hearing in L.A., attorneys for Heard, 30, submitted a May 24 letter they claim they sent to the business attorney for Depp, 52, outlining her allegations of abuse.
The letter states that Depp "violently attacked and threatened Amber on Saturday May 21 in their LA penthouse apartment."
Article continues below advertisement
"There are several witnesses to this particular incident, and there are photographs depicting the property damage Johnny caused, as well as the physical injuries he inflicted on Amber," according to the letter.
"Unfortunately, this is not the first incident of domestic violence perpetrated by Johnny against Amber," her lawyer wrote. "In fact, there have been two other incidents in the past six months."
However, her attorney insisted that she wanted to keep the allegations private.
"Although Amber is afraid of Johnny, she strongly insists that we do everything possible to keep this personal matter out of the media spotlight," her attorney wrote. "Amber wishes to work quickly towards a private and amicable resolution of all matters, but she will need Johnny's immediate cooperation to do so."
They claimed that "although Amber has been attacked and remained in fear for her safety, given the notoriety of both parties and the high likelihood of press harassment, Amber would prefer to settle the matter out of court."
Article continues below advertisement
Nonetheless, this morning she went to L.A.'s Superior Court requesting a restraining order against Depp. A temporary order was granted, and she is due back in court on June 17.
As RadarOnline.com reported, she filed for divorce from Depp on Monday. They were married in February 2015.
A rep for Depp has said, "Given the brevity of this marriage and the most recent and tragic loss of his mother, Johnny will not respond to any of the salacious false stories, gossip, misinformation and lies about his personal life. Hopefully the dissolution of this short marriage will be resolved quickly."