Johnny Depp Reportedly 'Driven Insane' Over Rumors Wife Amber Heard Was Cheating - With Cara Delevingne!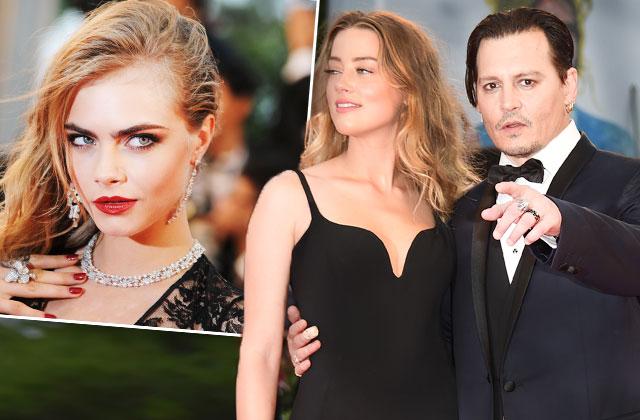 On Friday, 30-year-old actress Amber Heard sought a restraining order and filed for divorce from her mega-star husband, Johnny Depp, after an alleged domestic violence incident. Now, an insider reveals that Depp, 53, may have believed that Heard was cheating on him with 23-year-old model, Cara Delevingne.
According to the Sun, Depp's suspicions became aroused in 2014 when the women became close as Depp rented a mansion in North London. "Amber's friendship with Cara, which grew closer and closer over time, brought about the beginning of the end for her marriage to Johnny," a source told the outlet. "They used to party together a lot and made no attempt to hide the fact that they were quite flirty."
Article continues below advertisement
To make matters worse, Depp strongly disliked Delevingne. "He found her obnoxious and disrespectful and would ask his staff to warn him when she was going to be around," the insider claimed. "He didn't like quite a few of Amber's friends, but he took a particular dislike to Cara... It was the friendship with her that really started to drive him insane."
Heard dated women before her marriage to Depp, and Delevingne is currently in a relationship with musician Annie Clark. However, despite both women being attached to other people, the insider says that they did not hide their affinity for one another. "Amber always made her bisexual tendencies quite obvious," the source insisted. "But that would spark furious rows with Johnny, who hated how indiscreet she was being... On one occasion he even screamed at her, 'You're making a fool of me."'