Ted Cruz Chooses Carly Fiorina As His Running Mate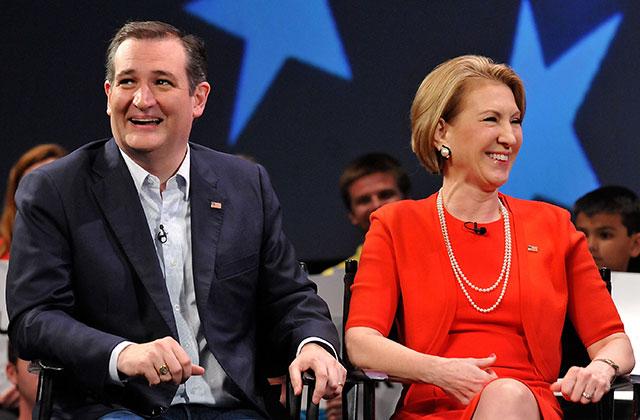 Carly Fiorina just joined Ted Cruz's campaign for the presidency! Fiorina has been a supporter of Cruz's since dropping out of her own bid for the presidency in February, and Cruz made their alliance official today with a big announcement.
"After a great deal of time and thought, after great deal of consideration and prayer. I have come to the conclusion that if I am nominated to be president of the United States that I will run on a ticket with my Vice Presidential nominee Carly Fiorina," Cruz said.
Article continues below advertisement
Calling the former Hewlett Packer CEO an "extraordinary leader" who is "brilliant" and "capable," he said she "shattered glass ceilings" on her way to the top.
The former HP CEO frequently appeared with the Texas senator on his campaign trail, even defending Cruz when reports surfaced that investigators were looking into claims he had as many as five mistresses in his past. After her defense of Cruz, the Texas senator said of Fiorina, "that woman gives Hillary Clinton nightmares."
But Cruz and Fiorina have a questionable past together. Back in January, Fiorina said Cruz pandered to the American people, saying "whatever" to get elected.
Choosing Fiorina as his running mate could be interpreted as a last-ditch effort for Cruz, whose campaign is hanging by a thread after primary losses to Donald Trump Tuesday night. Trump currently holds a strong lead with 954 delegates (1,237 is needed for the Republican nomination) ahead of Cruz's 562 and John Kasich's 153.
Cruz didn't miss out on a chance to bash his rival during the announcement.
"Like Hillary Clinton and Bernie Sanders, Trump looks to government as the answer to every problem," Cruz claimed.
Story developing.