O.J. Simpson Wants To Date 'Longtime Crush' Kris Jenner After Prison!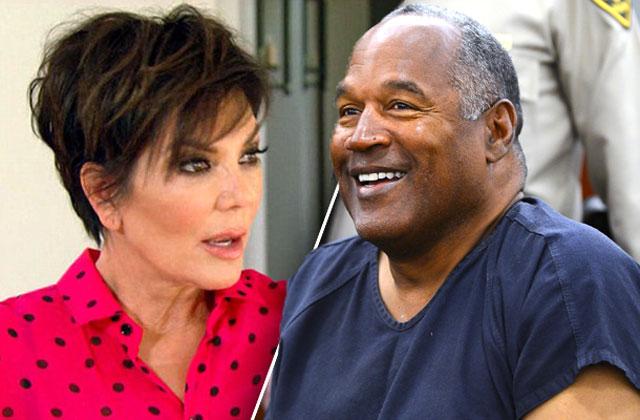 After eight years behind bars for his 2008 conviction of kidnapping and armed robbery, O.J. Simpson has one year left until he's eligible for parole.
As for his plans when he's released, New York Times' best-selling author Ian Halperin revealed that the former NFL star is hoping to date his crush of 30 years and Kardashian matriarch, Kris Jenner.
Halperin, whose juicy new book, Kardashian Dynasty: The Controversial Rise of America's Royal Family, is on shelves today, also claims that the once Hollywood heartthrob even plans to marry the ex-wife of his longtime friend and lawyer in the so-called Trial of the Century, Robert Kardashian, who passed away in 2003.
Article continues below advertisement
"O.J. has had a crush on Kris forever," Halperin revealed in an exclusive new interview with The Sun. "He believes the relationship that Kris is in now with Corey Gamble is a sham."
"He believes he is the man for her and intends to pursue her when he gets out of prison," Halperin continued. "There is definitely a long history there."
According to the author, Simpson is "likely to get parole next year, so it won't be long until he is released."
But if things don't work out with the Kardashian momager, Halperin says Simpson will go after the next best thing — Kris' other ex, Caitlyn Jenner!
"O.J. is obsessed with Caitlyn," he claimed of Simpson. "He is struck by how she has captured the hearts of the world and said with a straight face, 'When I get out of here I would consider dating her too'."
As a former friend of the family — the Simpsons and Kardashians went on multiple vacations together before Nicole Brown Simpson's tragic murder — Simpson allegedly shared his plans to "keep up" with the Kardashians himself.
"O.J. definitely has a plan when he gets out of prison and he intends to be around the Kardashians," Halperin claimed. "He is going to pitch to them about getting a spot on the show. He is broke, he needs money and he feels his only chance to get back on TV — which is his dream — is to hook up with his old 'family.'"
For more secrets on the Kardashian klan, get a copy of Halperin's new tell-all, Kardashian Dynasty, out today!