Exclusive
'Slow Suicide'? Alleged Biological Father Of Michael Jackson's Kids Died Excruciating Death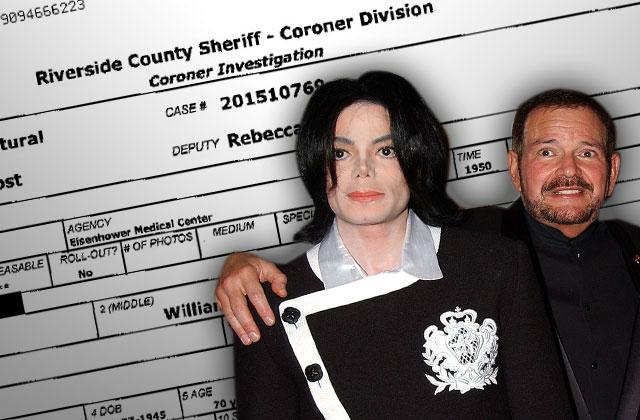 The alleged father of the late "King of Pop" Michael Jackson's children Prince and Paris died after suffering in excruciating pain, reveals a shocking coroner's report obtained exclusively by RadarOnline.com.
Dr. Arnold Klein, who passed away in California on Oct. 22, 2015, was taking a cocktail of medications beyond what his doctor had prescribed to treat his depression, anxiety, panic attacks and other issues.
Article continues below advertisement
"The coroner's report tells a story about a tormented man who lost the will to live," famed Hollywood P.I. Paul Barresi, who uncovered the document, told Radar. "It left me with more questions than answers. Dr. Klein was in excruciating pain for four days. He called 911 himself. Where were the people who should have been looking after him?"
"Eight meds over the three or four his doctor prescribed were found in his system," an insider explained. "Who wrote the prescriptions, who gave him those medications and what was the purpose?"
The coroner noted 70-year-old Klein's body contained diazepam, also known as valium, in addition to chemical byproducts of a drug used to produce a reduction in anxiety, loss of consciousness and memory loss by anesthesiologists during surgery.
The coroner also noted the extreme physical deterioration of Klein's body. The doctor had multiple irregular scars on his arms and legs, as well as a hole in his bowel, a side-effect of multiple drug interactions which caused excrement to seep into his stomach.
Article continues below advertisement
Now, the insider is demanding answers to what really was happening behind the scene's during Klein's final hours.
"Was there no one there to say look you're in such excruciating pain we need to call an ambulance? No. He suffered for four days in excruciating pain so finally 911 was called — and who called? He was the one!" blasted the insider. "Where are these people who were supposed to care about Dr. Klein when this guy was suffering for four days?"
Tragically, Klein died after he had a heart attack while waiting for help in a Palm Springs medical facility.
"By the time he got to the hospital he didn't even make it to the bed," said the insider. "The responsibility falls on whoever was closest to him. The coroner ruled it a natural death but I think it was a slow suicide."