Exclusive
Lindsay Lohan Is Back In Legal Trouble!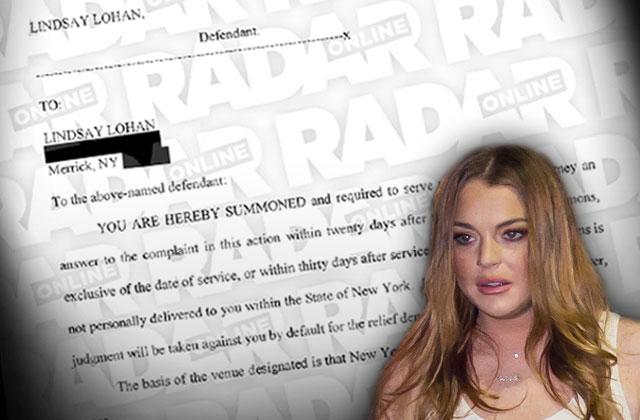 Lindsay Lohan's romance troubles could be over for good now that she's engaged, but she's still plagued by legal issues, RadarOnline.com has exclusively learned.
Last year, the 29-year-old's former driver filed a lawsuit against her claiming that she owed him more than $30,000. She has failed to respond to the allegations for more than a year, so he is asking a judge to rule in his favor.
Edson Ricci filed a lawsuit against Lohan in 2015 claiming that he entered into an agreement to provide transportation services for her, members of her family, friends and business associates. She agreed to pay for all services provided by him.
Article continues below advertisement
The driver sent multiple invoices totaling $43,900 for services he claimed he performed from August 21, 2012, to October 23, 2012, according to the documents obtained by Radar. He says she never disputed the amount owed and even sent him a check for $17,500, leaving a balance of $26,400.
Ricci claimed that Lohan also "requested Ricci to pay her hotel bill at the Soho Grand Hotel in New York in the amount of $1,439.18," which he did, but he says she never paid him back.
Ricci filed suit demanding the entire $26,400 owed for transportation plus the hotel bill, for a total of $27,839.18, along with interest and other costs.
On April 14, 2016, he filed documents asking for the judge to grant him a default judgement since the actress has ignored the lawsuit for nearly a year.
READ The Shocking Court Documents
He claims Lohan was served with the legal papers on August 13, 2015, and she has failed to respond to the allegations in his suit or show up to court to defend herself since then.
Ricci is demanding the entire $27,839.18 plus interest in the amount of $8,835.32 for a grand total of $36,674.50. The judge has yet to rule on his motion for a default judgement but a hearing has been scheduled for next week in New York.
Do you think Lindsay will pay the bill? Sound off in comments below.