LeeAnne Locken Blasts Brandi Redmond For Dissing Her: 'You're Acting Like A B***h!'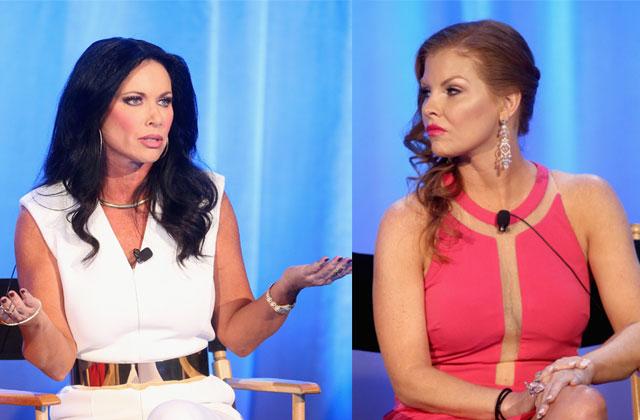 Don't mess with Texas! LeeAnne Locken and Brandi Redmond kicked off the series premiere of The Real Housewives of Dallas with an explosive fight that set the stage for the drama-packed season.
With charity season in full force, cast members Locken, Redmond, Stephanie Hollman and Tiffany Hendra gathered for a trunk show at co-star Cary Deuber's home.
Self-proclaimed "mouth of the South" Locken explained how she dedicates her life to volunteering for various charities.
Article continues below advertisement
"Growing up on the carnival showed you the dark side of life," the former carny kid said in her confessional. "I've been mugged, I've been hit on the side of the head, knocked unconscious, had my money stolen. The carnival prepared me for life in Dallas society."
But Deuber, who works as an operative assistant at her husband's plastic surgery office, didn't buy Locken's selflessness.
"LeeAnn is kind of at the center of the charity world," she explained. "I don't know how you get a job drinking and socializing, but maybe I should look into it."
At Deuber's event, Redmond and Hollman spent the night talking loudly and joking around.
A displeased Locken said in her confessional, "It's inappropriate. I think they want to escape their husbands and kids and come knock a few back and go crazy. It's not what charity really is about. You either take it seriously or go home."
But Redmond wasn't a fan of Locken either, as she explained, "I am not going to kiss everyone's a** in town so I could be in every magazine. She's using the charity world to shine the spotlight on herself. She makes herself the center of attention when she shouldn't be."
Article continues below advertisement
When Locken heard Redmond mimicking her, she confronted her for imitating her behind her back.
As Redmond explained how she imitates people "all out of fun," Locken responded, "I see your spirit. You're a sweetheart. You mimic people because it's your comedy. I love that about you."
But Redmond saw right through Locken's nice girl act, as she slammed her for telling her life story at an event for HIV and AIDS the week prior.
When Redmond told her "there's a time and a place to tell your story," Locken asked, "Do you see me as a pathetic person?"
Redmond responded, "I feel sorry for you. Being at an event and other people are talking about battling for their lives and you lash out and start talking about things going on in your life."
When Locken asked if Redmond thought she was lying about caring for the charities she works for, she responded, "You need help."
Locken fired back, "This is a charity event and you're acting like a little b***h!"
Brandi ended the feud by calling Locken, "F**king fake!"
The Real Housewives of Dallas airs Mondays at 10/9c on Bravo.