'RHOBH' Women Attack Lisa Vanderpump For Using Them As 'Pawns' In Her Feud With Yolanda Hadid!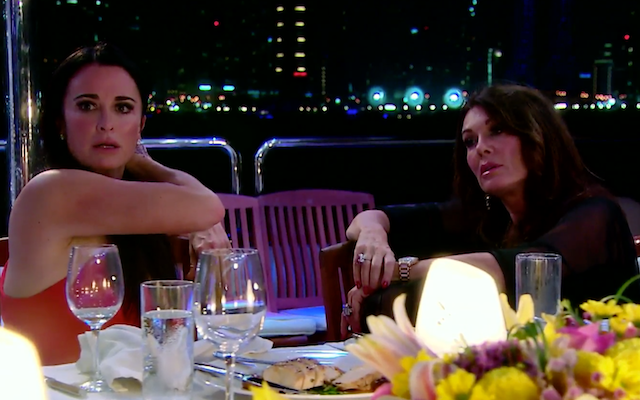 During their last night in Dubai, the ladies of The Real Housewives of Beverly Hills couldn't sit in silence and enjoy their food elegantly served on a multi-million dollar yacht. No, they had to "clear the air" and argue about conversations that took place weeks ago.
But there was a new theory floating around: Lisa Vanderpump's ongoing feud with Yolanda Hadid has made all the women in the group collateral damage.
Article continues below advertisement
Lisa Rinna opened her famous lips about the issue. She alleged that Yolanda's broken relationship with LVP is the "crux of the matter." And, this all started when Yo called Ken "rude" for grabbing her during a heated discussion last season. LVP teared up and admitted that time was "difficult and hurtful" for her husband Ken Todd.
"Lisa Vanderpump and Yolanda hate each other so much that they are willing to do anything to get at each other," Rinna said in her confessional. "We are collateral damage in the game of Lisa Vanderpump and Yolanda. Two highly narcissistic individuals who are battling it out to be the queen."
Yolanda Confronts 'RHOBH' Ladies Who Say She's Faking Lyme Disease
Even Kyle Richards weighed in: "LVP and Yolanda absolutely have an issues with each other. Is that why, maybe, Lisa wanted the word Munchausen's to get out but for someone else to say it?"
To refresh, Rinna claimed that LVP threw her bestie Kyle under the bus and told Rinna to "bring Kyle into this" referring to gossip about Yolanda's illness. The ladies accused LVP of wanting to hurt Yolanda while keeping her hands clean.
MORE ON:
The Real Housewives of Beverly Hills
Article continues below advertisement
Eileen Davidson was once again dumbfounded that Kyle would rather sweep all this under the rug than expose the restaurateur. "You're okay with her betraying you?" she asked.
'I Can't Even Deal'— Yolanda Foster Has No Time For Doubters On 'RHOBH'
The other ladies were so furious over the conversation running in circles they stormed off. Kyle then urged Lisa to change her story. "I will not f---ing tell a lie! And you know what, to me our friendship is too important," she said.
Erika Girardi called Kyle and LVP's relationship "leveraged" and observed that Kyle always needs to please Vanderpump in order to stay on good terms with the Brit.
Meanwhile in Beverly Hills, Yolanda had a "healthy" picnic with Brandi Glanville and Kim Richards. "When I hang out with Brandi and Kim, it's just easy … what you see is what you get," explained Yolanda. "No manipulating." At least those three are getting along.