Editing Expert Exposes Kourtney Kardashian's Bare Butt Photoshop Fail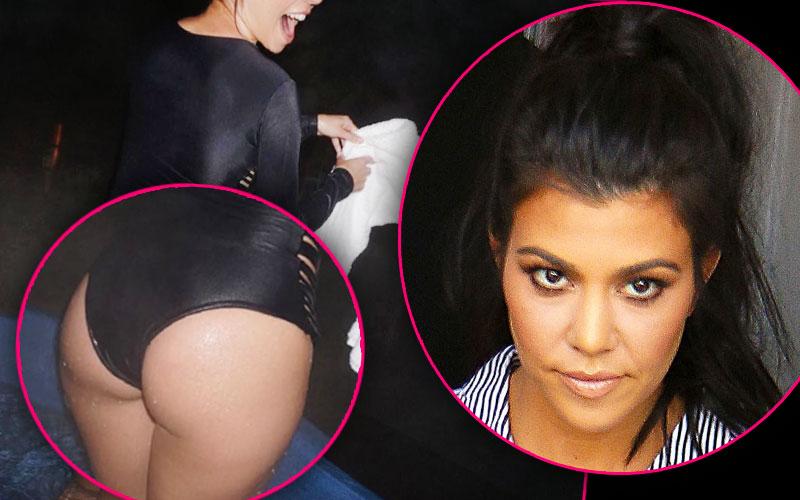 Kourtney Kardashian may be toting the most slender of all the Kardashian booties, but that doesn't mean she hasn't indulged in some aggressive photoshopping, tricking fans into thinking she has a perfect posterior!
During a recent trip to Iceland, the 37-year-old posted a seemingly candid shot of her backside, poked out playfully in an outdoor hot tub. Her followers immediately praised the green juice enthusiast for staying 'real' and flaunting her natural bum. But according to celebrity photographer Alan Barry, the photo was a big fat lie!
Article continues below advertisement
"Her right thigh has been badly blurred. When you blow the image up, you can see the noise in the blue pool," he revealed. "When you blur an area you kill the noise, and that is ridiculously obvious under her left butt cheek and her whole right thigh."
But Kardashian did not stop there. She also photoshopped her already-slim waist. "There are some very questionable artifacts around her waist on the left, and the right. The blackness has weird shading that would result when an area has been badly edited," Barry claimed. "The shadow on the left side that literally disappears as it traverses downward. The last couple of stripes on the edge of garment appear to float out in to space as if there was an edit that wasn't completed, such as pulling in her waist."
As if that weren't enough, she also tampered with her face. "I get that none of this clan leaves the house without 2 hours in make-up, but it is unfortunately well documented that she has dark bags under her eyes. This is shot is beyond make-up," Barry said. "Overall, this image is an embarrassment."
What do you think of Kardashian's photo fakery? Sound off in the comments section below.