Kerry Washington Blasts Adweek For Photoshopping Her: 'It Felt Strange To Look At'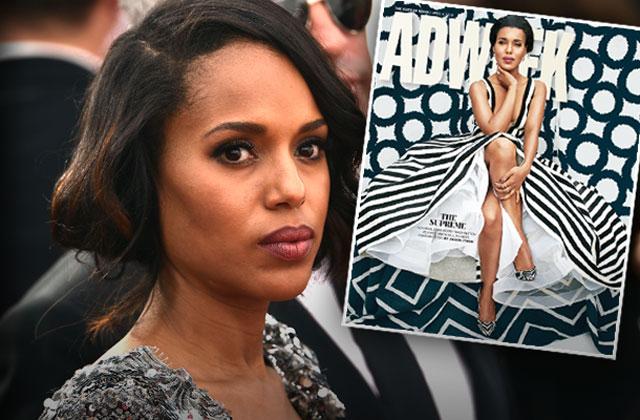 Kerry Washington doesn't want a real-life "scandal" in her midst!
After Adweek released a heavily Photoshopped cover image of the TV star, it didn't take long for her to slam the publication.
In a lengthy post shared on Instagram Tuesday evening, Washington discussed the "unfortunate feeling" she had after seeing her image altered.
"I just felt weary. It felt strange to look at a picture of myself that is so different from what I look like when I look in the mirror," the 39-year-old recalled of seeing the cover for the first time.
Article continues below advertisement
"Look, I'm no stranger to Photoshopping. It happens a lot. In a way, we have become a society of picture adjusters — who doesn't love a filter?!?" she wrote in her post.
Unfortunately, this isn't the first time Washington has dealt with a Photoshopping crisis. In an issue of InStyle magazine lastyear, the Scandal star's skin had clearly been lightened, sparking major outrage.
Meanwhile, Adweek stands by their photo edits.
"To clarify, we made minimal adjustments, solely for the cover's design needs. We meant no disrespect, quite the opposite. We are glad she is enthusiastic about the piece and appreciate her honest comments," the mag's Editorial Director Jim Cooper released in a statement.
To conclude her post, Washington explained that she was generally "proud" of the mag feature and thanked fans for "being patient with me while I figured out how to post this in a way that felt both celebratory and honest."