NHL Star Jack Johnson Sues His Own Mom! Inside Their Family Feud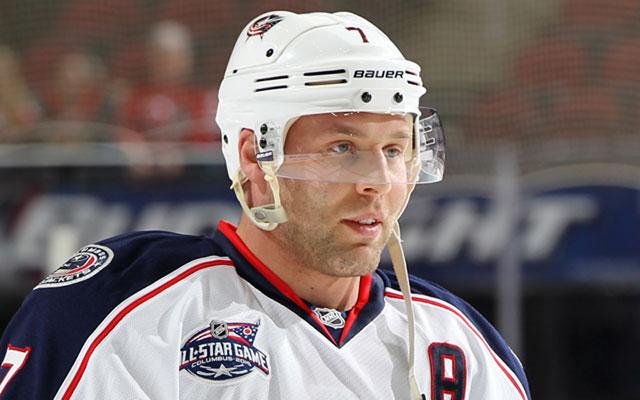 NHL star Jack Johnson has slammed his mother with a federal lawsuit, accusing her of not handing over a 2007 BMW he purchased, RadarOnline.com can exclusively reveal.
The 29-year-old filed the suit on April 4, amid his efforts to sell off assets to repay the $12.5 million in liabilities he owes to creditors in his bankruptcy case.
In the suit, Johnson — who is referred to as a "debtor" — demanded that his mom, Kristina Johnson, hand over the BMW he had let her use, insisting that it was not a gift.
Article continues below advertisement
"Although the First Vehicle is owned by Debtor, Defendant, who previously served as Debtor's financial and business advisor, is identified with Debtor on the First Vehicle's certificate of title for administrative and convenience purposes only," the complaint obtained by RadarOnline.com states. "Defendant has not paid any consideration for the First Vehicle."
Johnson alleged that his mother is claiming ownership of the car, and accuses her of refusing to turn it over to the bankruptcy trustee, who will sell it and use profits to pay back his many creditors.
However, the nasty lawsuit could have been avoided.
The NHL defenseman's legal team sent a cease and desist letter addressed to both his parents in March, warning them to stop driving the car and hand it over.
"Debtor hereby demands, on behalf of his bankruptcy estate, that you both crease and desist from possessing, driving, or exercising control over the BMW. It is property of the bankruptcy estate that can be used in order to help pay the claims of Debtor's creditors," the letter states.
Article continues below advertisement
They then ask the Johnsons to arrange a day to turn over the vehicle.
"If we do not hear from you to make such arrangements, we understand that you have no intention to return the vehicle in your possession and we will have no alternative but to seek an Order from Bankruptcy Court," the letter warns.
Johnson filed for Chapter 11 bankruptcy in 2014, claiming that he only had $3.1 million in assets against his $12.5 million debt.
While he had signed a $30.5 million contract in 2011, Johnson had earned nearly $18 million prior to the bankruptcy filing.
He accused his parents of secretly living a lavish lifestyle on his dime and making expensive purchases including a million-dollar Manhattan Beach home, cars and jewelry.
Johnson also claimed that his parents took out loans and borrowed against $15 million of his impending earnings. Combined with high interest rates, he was plunged further into debt when they let the loans go into default, according to the bankruptcy documents.
His creditors, however, have become enraged over how the bankruptcy played out, claiming that the NHL star has maintained the posh lifestyle he enjoyed before filing.
Johnson has repeatedly denied the claims and told the judge that he is being responsible and not double-crossing his creditors.
Story developing.