Bethenny Frankel Says Dorinda Medley Is 'Beyond Repair' On 'RHONY'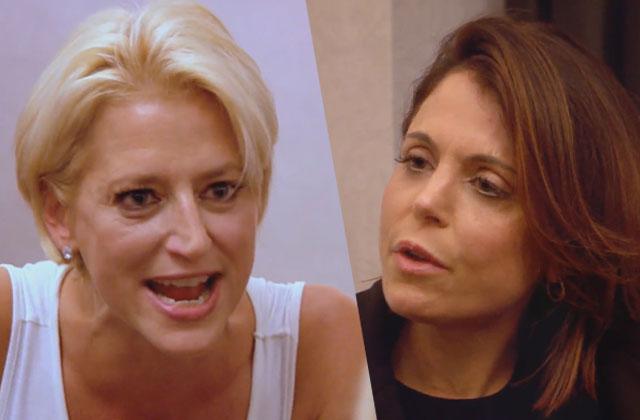 Something has been brewing since the premiere episode of The Real Housewives of New York — and it's not coffee, because Julianne "Jules" Wainstein doesn't know how to make it.
The leaning tower of seafood luncheon in episode 1 with Bethenny Frankel, Dorinda Medley and her boyfriend, The Dry Cleaning Kingpin, John laid the groundwork for tension.
As the business woman of the group, Bethenny might put it this way: While Dorinda is trying to sell her boyfriend John, he keeps busy trying to sell his dry cleaning services. And Frankel is simply not buying it. To be fair, however, Medley's behavior seems like any other girl with a new boyfriend, as she attempts to integrate him into the group.
Article continues below advertisement
To kick off her upcoming birthday bash, Bethenny headed out to buy herself some bling at a jewelry store, inviting Dorinda and Carole Radziwill to come along and enjoy champagne with her.
"You know me I can't refuse a drink!" Dorinda confessed as she arrived.
Of course, we all know Bethenny loves to watch her fellow 'Wives get drunk so she can silently judge, spewing verbal daggers on occasion. Happy Birthday to Bethenny! In honor of the grand affair, Dorinda will be nair-ing boy toy John's back while watching her own.
Just like the premiere, shellfish was involved in this episode. Dorinda threw a bra party with a sprawling table of appetizers, including shrimp. Jules, who keeps Kosher, went straight for the traif! Not knowing what to do, she stuck her spider arms in a big bucket of ice to purify her hands, looking around to see if anyone was watching. Bethenny may have rolled her eyes at Jules, but it was Dorinda who received the real Frankel judgement.
Article continues below advertisement
"Stop selling John to us because we are not buying him," Bethenny told Dorinda as she sat among bras in a Nascar inspired leather jacket.
Not surprisingly, Dorinda soon became defensive, shouting: "I chose him — period, done! Like him, don't like him — he's a part of my life. Guess what, Bethenny Frankel? You're not the word according to God!"
Soon after, Ramona jumped in to help the only way she knows how: sharing second-hand gossip she heard about John that involves Viagra. Dorinda refuses to believe it.
"As a friend for 20 years, you talk to me about it separately," she said, visibly hurt and in tears. Later, Dorinda reminded Ramona of the myriad of secrets she's kept for her throughout her sticky divorce.
Watch the Video on RadarOnline.com:
When the room settled a bit, Bethenny went in for the final kill (what she's been hinting at for the last episode and a half).
In a long-winded rant, Frankel called Dorinda a mess, John a "used car salesman," and noted that they both "get f**ked up beyond repair! You had to be carried out of my house!"
Unsurprisingly, Dorinda storms out shortly thereafter. Jules, who admittedly has no breasts to speak of, changes the subject and suggests they all try on those bras.