'I Just Committed Murder!' 911 Call In Dallas TV Star Stacy Fawcett Stabbing Exposed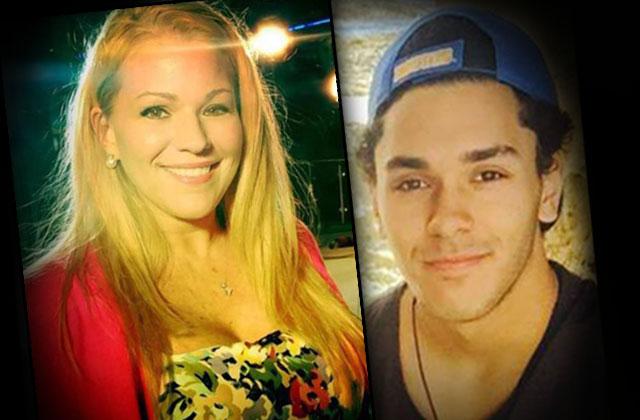 Beloved local celebrity Stacy Fawcett and son her Josiah Utu were stabbed to death by her son, McCann Utu, in their Colin County, Texas home on April 8. And cops were shocked at what they found when they responded to the 911 call, RadarOnline.com can exclusively reveal.
As previously reported, McCann fatally stabbed the Channel 8 contributor known as "Dallas's Favorite Foodie," as well as his 17-year-old brother Josiah. He then called cops to the scene.
Article continues below advertisement
Once officials arrived at the home, he greeted them, severely injured.
"Officer Dollar and other officers forced entry into the apartment and found the suspect, identified as McCann Utu, with apparent self-inflicted stab wounds to his abdomen and neck," the search warrant affidavit obtained by RadarOnline.com reads. "Officers also located a deceased white male identified as Josiah Utu on the floor in the hallway with multiple stab wounds."
They later spotted the 45-year-old mother-of-two.
"Officers also observed a white female identified as Stacy Fawcett deceased on the floor of what appeared to be her bedroom," the document says.
Cops also observed "blood on several spots on the carpet and walls throughout the hallway and broken knife blades on the floor." Swabs from several areas in the apartment and photos were also taken from the apartment as evidence.
Article continues below advertisement
In order to obtain the search warrant, cops also had to cite the chilling 911 call McCann made as evidence.
READ The Official Warrant Request
"During the call, McCann Utu is breathing heavy and states 'I just committed murder.' He goes on to say 'my mother and brother are dead,' and 'I needed to kill both of them," the warrant says. "Officers were also advised it sounded as though the caller was doing something to his throat and coughing and moaning was being heard."