Breaking: LAPD Launches Felony Investigation Into Charlie Sheen, Subpoena Blockbuster Audio Tapes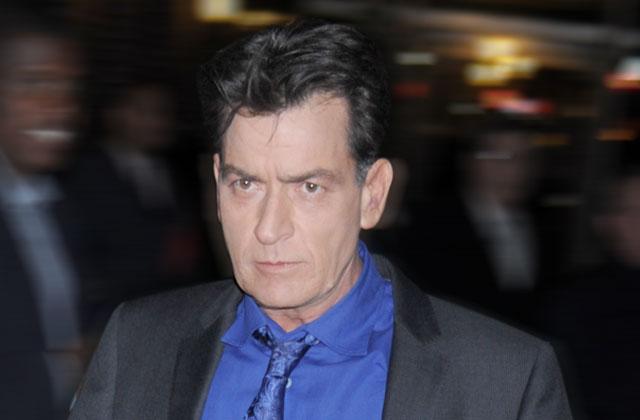 Article continues below advertisement
The search warrant and affidavit states that the tape described by RadarOnline.com "tends to show that a felony has been committed."
"The victim is Scottie Ross, aka Brett Rossi," the LAPD document states. "In 2013 and 2014, Ross and actor Charlie Sheen had been involved in a relationship."
As RadarOnline.com reported, Ross filed a "criminal threats" report in Van Nuys, Calif, last week. On April 1, she was granted an emergency protection order against Sheen. Cops revealed to RadarOnline.com the secret details of what went down behind the scenes.
Detectives "conducted an interview of Ross to verify the accuracy of the report and obtain further details," the warrant reveals. And her litany of allegations was extensive.
"Ross stated that during the time she resided with Sheen she endured domestic violence, physical assaults and death threats," the document explains. "Ross reported that on several occasions Sheen had brandished firearms at her and threatened her life. Ross stated that she did not report the violence and abuse at the time the incidents occurred, as she feared for her safety and was under Sheen's control."
Article continues below advertisement
The warrant continues, "Ross stated she witnessed Sheen in fits of rage and violent outbursts on numerous occasions. Ross stated that she witnessed Sheen threatened to kill his former wife Denise Richards and their children's lives. Ross stated that Sheen made threats to 'put a hit on her former boyfriend,' which Ross understood to mean Sheen wanted to hire someone to kill her former boyfriend."
"Ross stated that during the relationship, she discovered that Sheen was infected with and being treated for HIV. Ross stated that Sheen had not disclosed the fact that he was HIV positive to her.
"Ross further stated that Sheen had unprotected sex with her while infected with HIV and Sheen did not disclose that he was HIV positive to her prior to engaging in sexual intercourse."
These claims and others are at the heart of a civil lawsuit that Ross filed against Sheen late last year, as RadarOnline.com has reported. And although that case is currently in mediation, the search warrant served on RadarOnline.com claims that "Ross stated that she is in constant fear that Sheen will harm her in retaliation for the lawsuit."
Article continues below advertisement
Those fears were exacerbated on March 31, she claimed, when she read RadarOnline.com's article that revealed how the magazine, The National ENQUIRER, had uncovered an audio tape of Sheen threatening to kill her.
Sheen can be heard saying on the tape, recorded by a former lover and provided to The ENQUIRER, that Ross "needs to be f*cking buried!"
Cops revealed in the warrant that "Ross stated that based on Sheen's history of physical abuse and violence she is in fear for her life and believes that Sheen will carry out that threat. Ross stated that she lives in a constant state of fear and is afraid to leave her home."
Now, the LAPD is intent on getting the full copy of the 35-minute audio.
The LAPD believes "that obtaining those recordings will provide evidence that a felony violation of criminal threats has occurred," the warrant explains, as well as potentially "additional evidence of felony crimes."
They want to know the identity of the woman who recorded the tape, because she could "corroborate the allegations made by" Ross, 26, "and/or exonerate" Sheen, 50, they argue.
The LAPD hopes to search the RadarOnline.com and ENQUIRER offices in New York for "all recordings to include audio, video, electronic communication, digital and electronic data pertaining to the articles" about the audio, as well as "all transcripts of the records" and more.
Lawyers for RadarOnline.com have not yet responded to the subpoena.
Story developing.