Duggars In Debt! Cousin Amy's Husband Slapped With $50,000 Lawsuit For Unpaid Medical Bills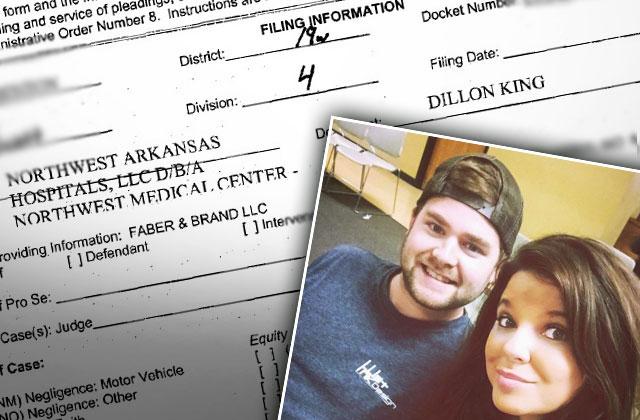 What will Uncle Jim Bob think of this crisis?
Though the family patriarch publicly condemns debt, Amy Duggar's husband, Dillon King, was slapped with a more than $50,000 lawsuit relating to unpaid medical bills, RadarOnline.com can reveal.
According to Arkansas' Benton County Circuit Court documents exclusively obtained by RadarOnline.com, the 28-year-old failed to pay Bentonville's Northwest Medical Center $51,940.53 more than a year after receiving treatment at the hospital.
Article continues below advertisement
THE PROOF! READ THE SHOCKING COURT PAPERS
"The Plaintiff demanded of Defendants that said items be paid for in full on numerous occasions including: at or immediately following the time of providing the various items; within the 30 day period following the providing of said items; on or about June 26, 2015; and on numerous other occasions since said items were provided," the medical center's attorneys wrote.
King was hospitalized from January 22 to January 25, 2015, an itemized receipt states. Though the court redacted the specific procedures, the treatment seems to stem from his car wreck that week.
"He had a head on collision…someone drove directly into his lane and hit him at 45 mph," Amy told Instagram followers on January 24 of that year. "He has a broken femur, he has an 18 inch rod in his leg!"
The hospital is demanding King pay his bill in full, in addition to $7,791.07 in attorneys' fees, $2,134.54 in interest, and a 6% interest rate from March 2, 2016 until the judgment date.
Article continues below advertisement
Thankfully, King has a job to start the long payment process: The Duggar hubby owns Wet Ink Design in Rogers, Arkanksas. Amy, 29, is an aspiring country music singer, but doesn't seem to be currently employed.
Facebook group Duggar Family News: Life is not all pickles and hairspray was first to report the lawsuit.
This isn't King's first run-in with the law. As RadarOnline.com exclusively reported, he was arrested for driving under the influence in both 2011 and 2013.