More Money Problems! Abby Lee Miller Fights Credit Card Company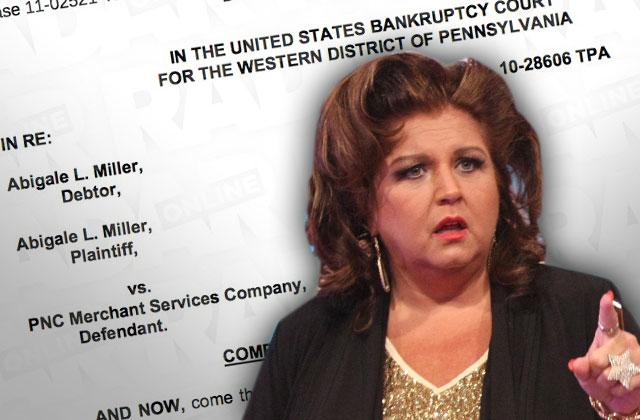 Abby Lee Miller's financial problems never seem to end.
RadarOnline.com has exclusively learned that during her bankruptcy proceedings, she got into a legal battle with a credit card processing company over unauthorized transactions.
According to court papers obtained by RadarOnline.com, the 49-year-old Dance Moms star filed a complaint to turnover funds against PNC Merchant Services Company on Oct. 21, 2011.
Article continues below advertisement
Miller allegedly used this company to "process credit transactions" at her store, The Tight Spot.
She said that the company's credit card machine often broke down and on one such occasion around July 2011, her employee called the company to repair the machine.
She alleged that PNC couldn't fix the machine and told her employee that a replacement machine would cost $10.
Apparently, the employee went ahead and ordered the machine even though she didn't have Miller's permission to do so.
And then on August 3, 2011, PNC charged Miller's store account an unauthorized amount of $1,102.08.
The company's charge caused the Tight Spot's bank account to get overdrawn and caused loads of overdraft fees to pile up over the next 15 days.
Miller's store manager tried to contact PNC to "demand" a refund, but PNC allegedly never returned her calls.
The company never handed over the funds, so Miller took them to court to get the money back and also requested that PNC pay her attorney fees and the cost of the overdraft fees.
Article continues below advertisement
Miller is accused of hiding over $755,000 that she earned from her hit Lifetime show.