WWE Network To Premiere 'Holy Foley' This August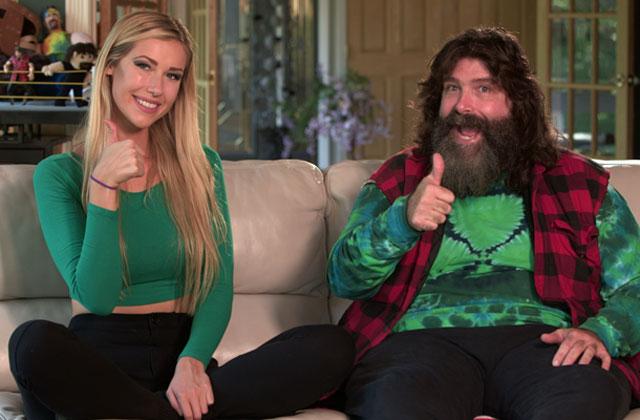 WWE Network continues to add to its robust slate of original programming with the newly green-lit show, Holy Foley, which will offer viewers a comedic, behind-the-scenes look into the life of WWE Hall of Famer Mick Foley and his unique relationship with his daughter Noelle.
Produced by Trooper Entertainment in association with Lionsgate, this 10-episode, 30-minute family reality series is slated to premiere in August 2016.
Article continues below advertisement
"I am excited to give fans a behind-the-scenes look into the Foley family life," said Mick Foley. "Holy Foley will be filled with surprises, lots of drama and moments that will make you laugh out loud."
"It's an honor to be working with WWE Hall of Famer Mick Foley, and I'm very happy to be collaborating with WWE on this series," Executive Producer Dave Caplan shared.
"As a leader in supplying premium content to digital platforms, we are very pleased to once again partner with WWE and bring this fun family series to WWE Network," said Jennifer O'Connell, Executive Vice President, Alternative Programming, Lionsgate Television. "Holy Foley is an exciting way to give the WWE Universe a unique behind-the-scenes look into the Foley family."
Show Synopsis:
At the Foley household on suburban Long Island, Mick Foley simply sees himself as a stand-up comedian and Santa-loving dad to his family of five, including wife Colette, sons Dewey, Mickey and Hughie, and daughter Noelle, with whom he shares a picture-perfect, father-daughter relationship.
However, unbeknownst to Mick, Noelle has decided she wants to follow in her father's footsteps, and has been secretly training to join WWE. Just when Mick thought he was out of the ring, Noelle is leading the charge to pull him back in.
As if Noelle's aspirations weren't enough, Dewey, Mick's oldest son, recently landed his dream job as a writer's assistant on the WWE creative team.
In Holy Foley, real-life antics and laugh-out-loud moments will unfold as cameras follow two generations of Foleys trying to make it in life — and at WWE.
For a complete listing of WWE Network availability by country and device, please click here.