Sheree's Ex Bob Whitfield Pays Off More Than $600K In Bankruptcy Case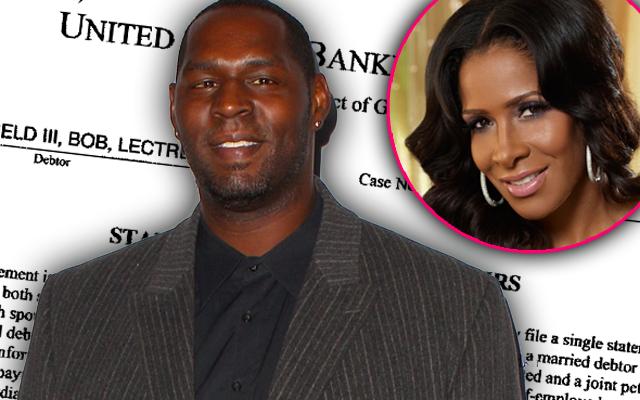 Sheree Whitfield's ex-husband Bob has finally scored a personal touchdown: RadarOnline.com has learned that the former NFL player is done tackling the Bankruptcy court.
According to legal papers obtained by Radar, Bob's case was discharged on Jan. 15, 2016.
The 44-year-old athlete originally filed for Chapter 13 bankruptcy on July 1, 2011, almost four years after finalizing his divorce from Real Housewives of Atlanta star Sheree.
Article continues below advertisement
READ THE SHOCKING COURT DOCUMENTS
In the court papers, Bob claimed to have $1,079,889 in assets, including an Atlanta, GA home valued at $347,000 and another $732,889 in other personal property.
Among his personal property, Bob valued his Samsung home entertainment system to be worth $12,500.
He also had a $10,000 Rolex Daytona Watch, $366,1633 in an NFL retirement plan, $292,251 in a NFL profit-share, and lots of Ikea furniture.
Bob also claimed to owe a whopping $644,353.13 to creditors, $414,493.23 of which was in a Wells Fargo Home Mortgage.
At the time he filed, Bob was disputing $38,700 in child support owed to Sheree.
He also owed over $48,000 in taxes and another $142,222.04 to various creditors for items like past due cable bills, phone bills and traffic tickets.
In his papers, the only income Bob claimed was $3,455.75 in disability, but he said that he had over $7,000 per month in expenses.
In the middle of the bankruptcy proceedings, Bob's case was converted to a Chapter 7.
But now it's all said and done.
"I was indifferent about that case," Bob told Radar exclusively about the discharge. "I filed that case so long ago during that whole real estate crisis. I just needed to unload this property."
After five years, he was finally able to take care of his debts.
"Everybody's paid up, everybody's happy," he concluded. "People got their money, so it was a good deal for everybody."